Best online tools to help you grow your small business
April 22, 2018
Article by comparisun.com, Last update at March 19, 2019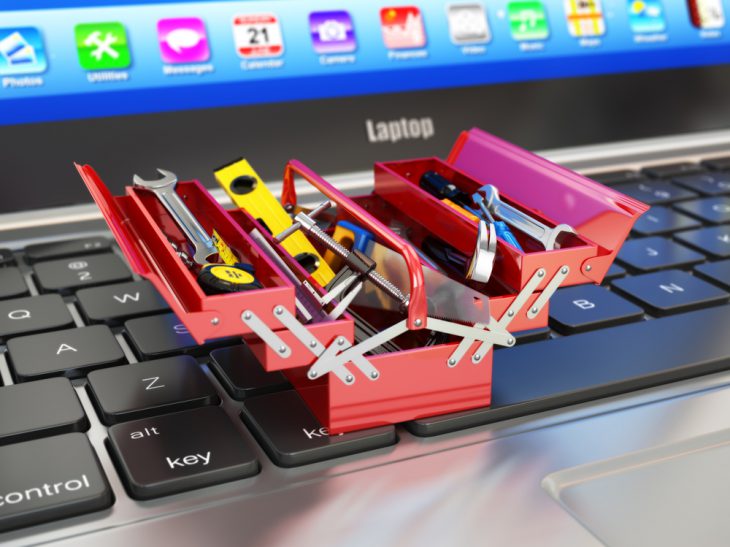 A small business can grow by investing in its online presence. Whether your goal is to engage with your audience or find new customers, digital tools can help you attract more people. This doesn't necessarily require a big budget though. All you need is the use of the right tools to make your work more efficient.
We've asked a number of inspiring people to help us organize a useful list for all the small business owners who want to improve their digital presence.The range of tools spans from productivity, business management, online transactions, to digital marketing, online growth, content management.
What all these tools have in common is that they can turn into a very useful ally for your business.
Here are their suggestions. Feel free to bookmark, save, share this copy with other people who might need it!
Suggestions:
Zoho CRM

ComplyRight

Paypal

Fundbox

Office
– Netvantage Marketing – SEM solutions
Where do we start! We love @semrush because the tool does so much! We love @SproutSocial for scheduling and monitoring social media accounts. @screamingfrog is another favorite for crawling sites.
– Craig Campbell – Digital marketing expert
@semrush @ahrefs @ContentCal_io @ninjaoutreach @DeepCrawl and @seomonitor are some of the best tools around that I use on a regular basis. And they are well used in the industry, too.
– Phoebe Fasulo

– SEO Manager at The Boston Globe
Google Business Tools: Google's Tools help me easily collaborate with colleagues, freelancers and clients. Google's plethora of business tools (Docs, Spreadsheets, Slides) solves the "6 versions of the same presentation, which one is the latest" problem.
Screaming Frog: Screaming Frog is one of the most useful tools for SEO. I utilize Screaming Frog on every project, especially during technical and competitive audits. It easily identifies errors, redirects, HTML titles, meta descriptions, headers, image alt text, canonicalization, and more.
BuzzSumo: BuzzSumo is great to use when researching a website's top shared content on social media (by domain or topic). It can also be used to identify social media influencers, social media posting habits and to monitor backlinks.
Moz Bar: I like the MozBar because it's easy and straightforward to use, and enables you to grab high-level insights, quickly. The MozBar can be used to look at Domain Authority, Page Authority, a site's spam score, on-page elements, link metrics, markup, http status and general attributes.
Wappalyzer: Every website is built differently, that's where Wappalyzer comes in. This Chrome Extension quickly identifies what a website is utilizing, everything everything from Drupal to Google Analytics, to Marketo to WordPress, and everything in between.
– David Rosam – Digital Marketer
My choices would be these:
SEMrush

(semrush.com): The most complete and useful suite of digital marketing tools I know. I use it for research and reporting most days.

Google Analytics

(analytics.google.com) It's free and powerful. But it can be confusing for beginners.

Pocket

(getpocket.com) Pocket is my digital inbox. I save research materials, professional and personal reading and anything else I want to return to. Pocket is free, but there's a paid version if you want all the bells and whistles.

Feedly

(feedly.com) Following RSS feeds is a fantastic way to keep up with your market, thought leaders and competitors. And Feedly is the best way to keep on top of those feeds. There are free and paid accounts.

Grammarly

(grammarly.com) Checks copy for grammatical mistakes and saves embarassment. I use Grammarly all the time, despite spending years as a copywriter. It picks out mistakes that writers always tend to miss when in a hurry and suggests alternatives.
– Maria Rozhdestvenskaia – Video marketing enthusiast
Gotta love Wave.video! It's an online video making tool for creating video ads, social videos, etc. Perfect choice for a small business owner.
– Robert Viney – Successful Entrepreneur & Business Coach
I don't use many online tools but one related thing I would strongly suggest business owners always do is to use their online platforms to engage well with targets. Have always engaged well, off and online, in business to build relationships. So many don't!
– Rieva Lesonsky – CEO & President at GrowBiz Media / SmallBizDaily.com
Microsoft 365: Subscribing to Microsoft Office 365 gives me always updated versions of the software I use everyday, such as Word, PowerPoint, Excel, One Drive and so much more. Everything is in the cloud, which allows me access from anywhere, whenever I want. This comes in handy when you're on the road as much as I am. And I'm a Mac user, so this allows me to use the best of Microsoft software, on Apple devices.
Pocket: Pocket allows you to save any article from any website to any of your devices you've downloaded Pocket to. Once you download the articles, you can read them without an internet connections, which again is great for traveling. I also use it to organize my research for upcoming articles and presentations.
One Tab: This is a Chrome extension. Everyone likes to work a different way. I prefer keeping tabs open until I'm finished with the article/website. But this tends to make computers sluggish. So One Tab allows you to store them on one page for as long as you want and restore them all or one at a time, as needed. This extension has saved me numerous times from having to shut down my computer.
Twitter & Hootsuite/Twitterific/TweetBot/TweetDeck: I'm a firm believer in social media as a small business tool. I can't tell you which mediums work best for you, but for me Twitter is my favorite. (Big fan of LinkedIn as well). But you need a 3rd-party tool to manage social media. Honestly, I have yet to find the perfect tool, especially now that Twitter has changed its rules. So I use all these tools to make social media work best for me and my company.
EBates: This is more for personal use than business, though I have purchase office supplies using Ebates. Ebates is a simple concept. You sign up. It's free. and when you buy from stores (mostly online, some brick-and-mortar) you earn a percentage back, generally in the 3% range. Though they run promotions where it can be much higher—they recently ran a 13% earnback. Ebates pays out quarterly. If you shop, this is a must-have
– Masha Maksimava – Digital Marketing Strategist
Looking forward to that post for sure! Here's my list. @AwarioApp to monitor brand mentions, competitors, and find leads on social, @trello for todo's and big ideas, @SimilarWeb for insights on competitors' traffic sources, and @MailChimp as a super simple way to do email.
Here's the full list of the tools:
Zoho CRM

ComplyRight

Paypal

Fundbox

Office

SEMRush

Sprout Social

Screaming Frog

Ahrefs

ContentCal

Ninja Outreach

DeepCrawl

SEO Monitor

Google Business Tools

Buzzsumo

Moz Bar

Wappalyzer

Google Analytics

Pocket

Feedly

Grammarly

Wave.video

Microsoft 365

OneTab

Hootsuite

Twitterific

TweetBot

TweetDeck

Ebates

Awario

Trello

Similar Web

Mailchimp
Read More Articles That Help SMB's Better Run Their Business