Square App – All you need to know
January 23, 2019
Article by Andres Ramos, Last update at March 19, 2019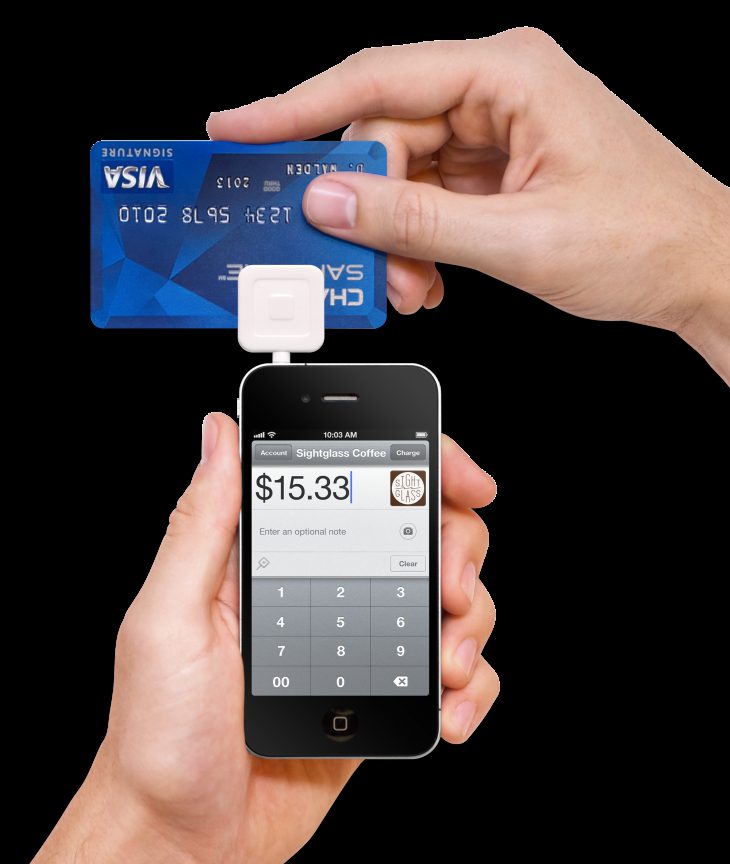 Square App Overview
In 2009, the world of payment processing was shaken to its core by the arrival of an innovative new service that did away with monthly fees and expensive hardware.  Offering swipe-based processing carried out using a small dongle attached to the user's smartphone, this paradigm shift leveled the playing field for merchants everywhere – and turned Square into a household name.
However, Square has not been satisfied to simply make credit card processing available for businesses of any scale.  Instead, they've worked diligently to become the mobile processing solution with the most features and options, boasting an impressive repertoire of services that includes their much-touted Square Register and the widely-acclaimed Square Point of Sale. 
If the past decade has demonstrated anything, it's that Square is poised to remain an institution of the mobile processing market, and will continue to be a driver in its evolution.
So what keeps clients coming back to Square?  For many of its customers, the answer to this is its cost.  Square's pricing structures are some of the most competitive in the industry, with clients typically paying a 2.75% flat rate for swiped, tapped, or dipped transactions, 3.5% + 15 cents per keyed transaction, and a charge of 2.9% + 30 cents for transactions conducted over the internet.
Equally as important to customers as Square's charges are the things for which it doesn't charge.  Their clients can wave goodbye to monthly fees, bid adieu to statement costs and tell monthly minimums to take a hike.  The absence of so many of the customary charges associated with credit processing have been a boon to new and fledgling merchants, many of whom may lack the established processing history required by Square's competitors.
How much does the Square App Cost?
One of the great things about partnering with Square is the dearth of upfront costs.  While many other credit processing and POS solutions charge for either hardware purchases or rentals, users taking advantage of Square's unique approach to mobile processing can get started with little to no upfront charges. 
Their smartphone-based card reader is given out to merchants free of charge, allowing owners of all types of businesses to immediately start accepting credit card payments with minimal hassle and headaches.  Artists and small business owners who once may have lacked the resources and credit processing history to qualify for other credit processing services can now start tapping into the considerably large segment of the population that prefers to carry little or no cash.
Should a client wish to upgrade to equipment capable of accepting chip cards or NFC payments, they can purchase a wireless device that will set them back $50.  Though this sounds marginally more expensive in contrast to their free, plug-in reader, it's still much cheaper than the portals offered by competitors whose rental charges can enter the triple digits each month.
Most importantly, these low-cost devices help small businesses overcome the barriers-to-entry presented by expensive credit card terminals and monthly fees.
How does Square Make its Revenue?
By this point, you may be wondering: If Square has little-to-no hardware fees, no monthly costs or minimums, and no rental fees, then how do they generate income?  Is Square a revolutionary new way of bringing previously-disenfranchised merchants into the fold, or is it just smoke and mirrors obfuscating an empire built on empty promises?
Fortunately, the answer is simple: Square relies on a percentage of its customers' transactions as its lifeblood.  Instead of charging clients upfront for a service they may or may not use, Square has decided to roll the dice on the idea that customers will indeed use their processing solutions enough times for their per-transaction pricing model to be profitable.  If their 2018 profit reports – which saw the company's earnings reach nearly half a billion dollars – are any indication, it seems as if their gamble has paid off.
By devising a highly-efficient, low-cost way of opening up access to the transactions of millions of small businesses across the world, they were able to dip into a revenue stream that had been previously off-limits to credit card processors the world throughout.
Square has replaced the world of upfront and monthly costs with which its competitors encumber their users, opting to charge a meager 2.75% per swipe.  This rate also applies to dipped and tapped transactions.
Slightly more complicated exchanges will incur nominally higher rates that are still bearable and easy to handle.  Keyed transactions will cost merchants 3.5%, as well as an additional 15 cents, and online sales will find themselves accompanied by a 2.9% charge in addition to a 30 cent charge.  While it would be preferable to see even these charges vanish, ultimately, Square is offering a highly-competitive service – not a charity. 
Another way through which Square once optimized their revenue flow was through an exclusive partnership with coffeehouse megalith, Starbucks.  Unfortunately, however, the plug was pulled early on the partnership when the coffee chain decided not to use Square's software, opting to go with internally-developed, proprietary apps instead. 
Industry insiders agree, however, that the split was to Square's advantage, as, in order to attain their contract with the coffee house, they had to offer them massive discounts on their already low rates which they hoped would be justified by sales volumes.  In reality, while the partnership grossed Square $123 million in sales, the cost of delivering their services exceeded what they made by nearly $30 million.
Square continues to expand upon its hallmark strategy of growth through the empowerment of the little guy, as was recently demonstrated when they unveiled their new small business lending arm, Square Capital.  Additionally, their money-transferring app, Cash, has changed the way that people exchange money with friends and family while allowing the company to milk the interest generated by storing customers' funds for additional revenue.
Square and Debit Cards
Though Square was initially developed to help merchants capture sales from credit card users, its capabilities extend far beyond the jurisdiction of the visa logo.  In fact, Square can accept any card endorsed by American Express, MasterCard, Visa, JCB, or Discover.  In addition, it works seamlessly with all Interac Debit cards.
While there is no difference in the fee assessed between the different credit cards brands, it's important to note that debit cards do incur a ten cent surcharge every time they're tapped.  Additionally, they have a $100 per-transaction limit on tapped, Interac debit card purchases.
However, all other types of non-tapped transactions can be carried out securely and at no additional cost beyond the standard rates as long as the customer uses a debit card endorsed by one of the approved card carriers.
Which Payment App Should You Use?
The market is swarming with a multitude of payment apps going neck-and-neck for your business.  Each of these apps has a unique set of selling points made to distinguish it from its competitors and which you can leverage to best satisfy your individual needs.  Some of the most popular players on the field include:
Apple Pay – Developed by Apple, this payment app integrates easily with the iOS platform to allow users the freedom to tap their way through transactions at millions of store worldwide, as well allowing them to send money to other users. Of course, the chief limitation of this app is that it forces you to purchase an Apple device, such an iPhone, in order to take advantage of its offerings.  This means that customers seeking to use a paid app without having to dish out nearly a thousand dollars on a phone will find themselves out in the cold with Apple Pay.
Zelle – Zelle is a bit different from other payment apps in that it isn't a fully dedicated mobile app. Instead, it works by pairing with banks to allow person to person payments.  Essentially, what Zelle serves as is as a conduit for your bank to more quickly transfer funds.  Think of them as an online highway for the delivery of your money!
Venmo – Venmo revolutionized the way we transfer cash by making sending money as easy as sending a text. Users on Venmo can text each other cash instantly, making the process splitting bills or buying and selling items significantly easier.  However, Venmo does come with quite a few limitations: Firstly, users can only send up to $299 per week until their identity is verified.  Once they're verified, that amount goes up to $2,999.  However, no more than $2,000 can be sent in any one payment, and one can only send up to 30 payments a day.
Cash – Developed by Square, the Cash App allows customers to safely send money entirely for free. In contrast to some of their competitors, the Cash App can be linked to a physical debit card given out for free by the company that allows you to spend the money in your cash account directly.  Finally, users can request a free .me page that allows others to pay them without needing their personal information, allowing clients to receive money without sacrificing their privacy.
While each of these apps can be advantageous depending on your specific situation, we feel that, in general, Cash takes the award for its flexibility, low costs, and device agnosticism.