How to Choose the Best POS System for a Pizza Restaurant
April 23, 2018
Article by comparisun.com, Last update at April 3, 2019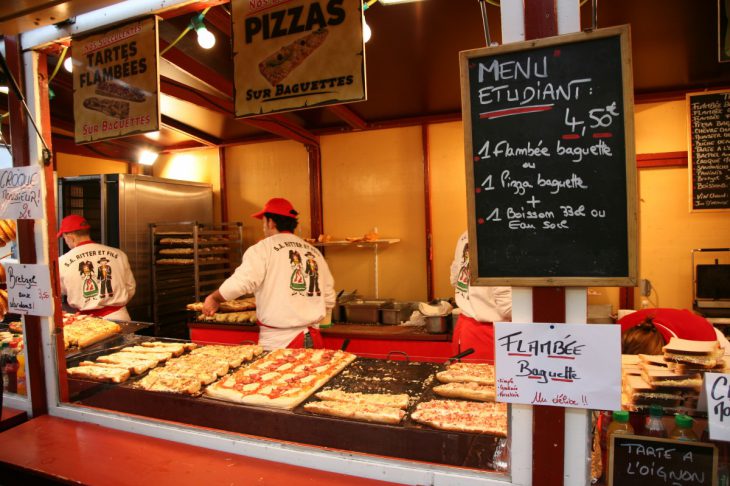 Wherever you are in the world, whoever you're with, everyone can agree – we all love pizza.
Thin crust, deep dish, pineapple or yes, even anchovies on top – the sky's the limit for pizza, with it being a tasty treat for any time of the day (who doesn't love a cold pizza breakfast?). And for pizza stores, this means a constant flow of customers at any hour.
According to statistics from 2017, the market value of the pizza industry in the US alone was an eye-watering $50.07 billion… and it's projected to grow by a further 22% in the next year or so.
With so much pizza-based competition – and demand – pizza businesses need to be able to do two things: produce a tasty product and smoothly handle orders/checkout process. To put a long story short, any pizza business worth their bread needs a POS which can hold up to the demands of running a pizza restaurant.
Why Get a Pizza Restaurant-Specific POS System?
It may sound funny but a POS system for pizza restaurants often have unique needs, differing even from other types of restaurants!
This is because:
With such a customizable product, there are hundreds of potential order combinations.

Pizza takeout is just as popular as eat-in orders, meaning any POS needs to be able to handle both orders, effortlessly.

Independent operators need to find ways to compete with big chains – therefore, stay relevant, having promotions, and even loyalty clubs.
Any pizza restaurant POS needs to have several features:
It must be customizable, able to handle every combination of order, and even be able to save order templates for pre-customized pizza offers.

It has to be inventory ready – it should be able to track how much of any item remains: no customer should ever go without a mushroom topping!

It should handle orders both placed in-house and online for delivery: any good pizza POS system will integrate menus, cutting out any expensive middleman delivery company.
The Best Pizza POS Systems
TouchBistro: the ultimate fully-integrated system
Created for the restaurant industry, it's no wonder TouchBistro has become the number one iPad POS system in 37 countries. This feature-filled system is available for both Full Service and Quick Service restaurants and is suitable for small to medium businesses and multiple locations.TouchBistro can be customized easily and automatically monitors inventory, routes for delivery orders and employee scheduling and reporting. On top of that, TouchBistro works well with loyalty programs and allows restaurant owners to manage discounts and promotions so they can keep customers coming through their doors.
Shopkeep: the simple, smooth, easy-ordering POS system
Manage everything from orders to inventory easily with this iPad POS system. Forget pens and pads and integrate the entire ordering process with Shopkeep. Orders are sent straight from the iPad to the kitchen for seamless customer interactions and effortless management of stock.
This system is great for small to medium businesses and can be set up with multiple site locations, so it's perfect for loyalty clubs, creating business-wide promotions and issuing marketing plans. Having access to the system via mobile makes Shopkeep the ultimate always-convenient POS system, business owners can check in on their shop, anytime, anywhere.
Upserve: unique features that allow your business to thrive
Another highly-rated POS system, Upserve stands out as a feature-rich system best for medium to large scale restaurants. Everything from marketing to customer management can be controlled via the Upserev iPad POS system. Menus can be quickly created and customized, products can be modified and everything is easily displayed through drop-down touchscreen buttons.
Upserve is unique in its ability to function both off and online, so restaurants aren't tied to the cloud or internet connectivity to operate – a huge benefit. On top of that, restaurant owners can create a customer support system that's suitable for their business. Customers benefit and so do business owners; everyone's happy with Upserve.
LightSpeed: the fastest POS system out there
Restaurant owners love this clever POS system with different features designed specifically for the restaurant industry. LightSpeed allows managers to track and monitor inventory, purchasing, merchandise, and shipping at every step of the journey, so no part of the system is allowed to lag. This POS system is great for medium-sized businesses and can work with multiple locations, including kiosks and mobile shops.
Furthermore, LightSpeed securely uploads all data to the cloud, so there's no fear of losing important information and the ability to create reports from hundreds of pre-designed templates makes monitoring a business' sales and successes all the easier. Despite all its high-tech features, LightSpeed is extremely easy to use, so any employee can get the hang of things quickly… and keep slinging those pizzas out the kitchen door.
How to Choose?
Think about the needs of your pizza restaurant and what your customers are asking for. Do you provide an array of pizza toppings and lots of customizable menu options or do you stick to a more traditional, simplistic Italian menu? Are you a medium-sized growing business or a small mom-and-pop shop content with an always-busy restaurant floor? Whatever your niche is as a pizza restaurant, there's a POS system with the right features for you.