Discovering The TOP 10 Best Restaurant POS Systems To Maximize Efficiency
February 5, 2018
Article by Belinda Anderton, Last update at March 19, 2019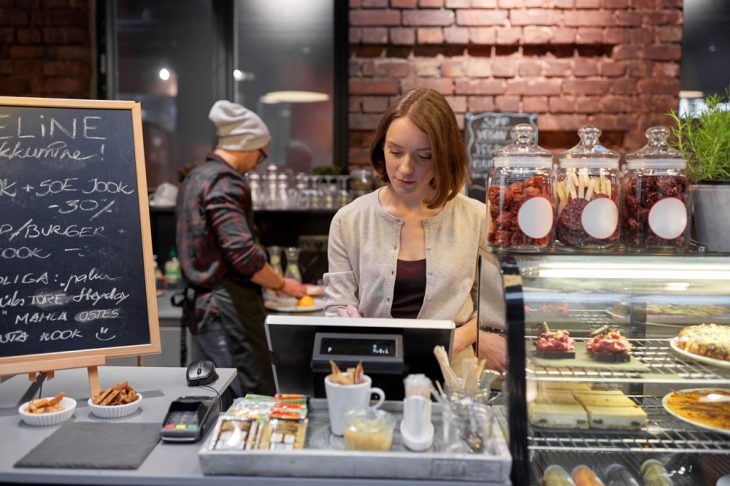 Customers expect restaurants to do things faster, better and more effectively. From bookings to bussing tables, from kitchen to quality control, a restaurant should function seamlessly. Your POS system is the foundation for every aspect of restaurant operations but choosing a good restaurant POS system depends heavily on your needs and current systems in place.
How a Restaurant POS System Maximizes Speed and Efficiency
Just the daily volume of money that flows through a restaurant makes having a POS system a necessity. One of the absolute must-haves when looking through a list of restaurant POS systems is the ability to act as a credit card processor. Many of the top restaurant POS systems allow for seamless efficient credit card processing as well as cutting down on employee theft by ensuring that a check cannot be altered and making servers accountable for their tables and sales.
Move Away from Cash Register – Tableside POS Systems
Tableside POS systems are becoming even more essential to maximize speed and efficiency in a busy restaurant. According to the Los Angeles Times, Olive Garden said wait staff using the payment tablets see a 15 percent increase in tips and turn over their tables seven to 10 minutes faster. A spokesperson noted that "Guests can set the pace of their meals by ordering drinks, appetizers, and desserts as they want them and pay their checks with ease whenever they are ready."
One of the top choices for a tableside POS is TouchBistro, geared mostly for smaller cafes, bars, restaurants and food trucks though completely scalable to larger establishments. The tableside POS is handled via an iPad and makes transacting much faster along with additional features like employee and customer management as well as payment processing. Toast is also regularly listed as one of the more robust solutions for tableside transactions and additional features like 'Quick Order' you're guaranteed to provide a fast seamless experience for your customers.
Revel is another great option for a cloud-based restaurant POS system, the addition of integrations to third-party applications like QuickBooks and ApplePay, make it an attractive option for restaurant owners that want customizable full service software.
What do Restaurant POS Systems Cost?
Monthly fees, contracts, or pay-as-you-go: there are a lot of options when it comes to choosing the best restaurant POS system for a small-to-medium business. Toast and Lavu are both attractively priced for smaller business owners. Toast offers a few different pricing options and comes in at around $79 per month, while Lavu offers a monthly pricing system of $59 with additional services on request. Lavu POS systems also offer flexibility when managing multiple locations and real-time access to sales data and employee management and offer various types of customization whether your own an ice-cream shop, a pizza place or a silver-service, fine dining establishment. On the other end of the spectrum, both Touch Bistro and Revel offer quote based pricing which will depend on the customization that you choose.
ShopKeep comes it at around $2.50 per day, and though it is a 'no-frills' cloud-based POS system, it allows restaurant employees to process sales, track inventory and even email and print receipts using an iPad. Easy-to-use is one of the most often repeated customer reviews of this restaurant POS software. Employee training is simple, and its clean interface means it's a great no-frills option for a small restaurant. Though it doesn't have some of the feature-rich additions offered by other types of POS software, it's a reliable starting spot for any SMB in this industry.
Square has a unique pricing structure that doesn't force a restaurant owner into a lengthy monthly contract. This lowered barrier to entry makes it perfect for pop-ups, kiosks and mobile businesses. It also offers the ability to scale and increase the feature set as the restaurant grows. The 'Square Stand' turns an iPad into a complete cash register and allows for integrations with TaxJar and QuickBooks for payroll management and invoicing.
With Breadcrumb you'll need to make a purchase for your first terminal, but you can choose to lease future terminals as the business grows. One of the best choices for a full-service restaurant, Breadcrumb offers a full-service of features including customization of menu items, table maps and sales tracking in real time using the Breadcrumb Live mobile app.
Android or iOS for your POS?
One of the key decisions you'll have to make when purchasing your restaurant POS system is whether to use an iOS or Android based system. To make the best choice, you need to look at which system offers the most flexibility and customization for your restaurant, and not necessarily what you prefer to use personally.
In terms of flexibility and reliability, Android is often touted as most suitable for restaurants, and it is more affordable. That said, many of the top restaurant POS systems like ShopKeep, Revel and Lightspeed run only on iOS.
Many reviewers consider Apple to be more secure for financial transactions based on the availability and frequency of Apple updates, but Android offers a lot more features and a high degree of customization. Toast POS is one of the very few Android-based POS systems and provides more customization than iPad based restaurant POS systems. You may also want to look at some of the restaurant POS systems that offer a choice between the two, like Square and Vend.
It is also possible to choose a POS system that runs on a proprietary system like Clover, which ensures that you're not susceptible to cloud-based 'glitches' that do occur with both Android and iOS.
With the ever-expanding array of feature and functionality available on all restaurant POS systems and software packages, choosing the one that will help your business can be tough. Comparisun provides a sophisticated classification of Restaurant POS system reviews that allows SMBs to delve into the features and look at customer reviews to help them decide which feature set will suit their needs. Having an overview of the top restaurant POS systems is the best place to start before looking at specific features.