Best Bar POS Systems
December 9, 2018
Article by Sarah Pritzker, Last update at June 5, 2019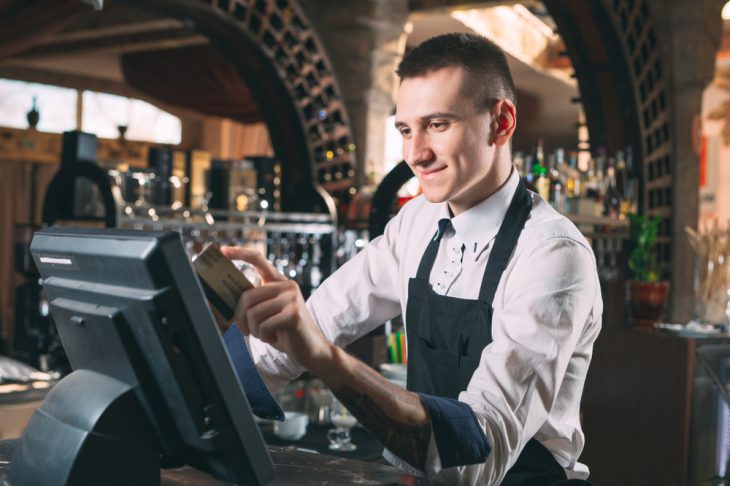 Best Bar POS Systems For Success 
With so much happening on the typical bar scene, bar staff and managers really need to be on their game to make sure everything runs smoothly and costly mistakes don't happen. A bar POS system offers tremendous relief for these workers, giving you flexibility, accountability, and analytics to keep the cogs well greased and the entire machine running smoothly.
Here's what you should know about bar POS Systems, which brands to look out for, and how it can really help you turn a profit this year.
What is a Bar POS System?
A POS system is a combination of hardware and software that allows you to process orders and payments, manage various aspects of your business, and keep tabs on important details you might otherwise forget. Not to mention, this invaluable tool also saves you hundreds of hours of manual labor every year with things like inventory management and payroll processing. Basically, bar POS software is the right-hand man you've always wanted but could never afford. Well, now you can.
Generally speaking, you'll get some sort of hardware to process the payments and software to take care of all of the backend stuff. POS hardware can include:
Cash drawer or register
Credit card reader
Barcode scanner
Receipt printer
But if you're running a smaller operation, you can rely on even less, using a tablet or smartphone for all of the above. The software itself is either a cloud-based service that you'll pay a monthly fee for (recommended) or an in-house product that kind of leaves you on your own. Weigh the pros and cons carefully before deciding to make the purchase.
Why You Need Bar POS System
So, why do you need a bar POS system anyway? Pubs aren't your typical restaurant experience, so it's understandable that the technology that runs these businesses won't be your typical service either. While a standard system might work for other hospitality venues, you'll get the most bang for your buck investing in a dedicated bar POS software.
Good news is these don't cost anything extra, you just have to know which vendors offer the right features for you. For example, Shopkeep is an awesome POS system, but it is heavily geared towards retail shops like clothing stores, etc. You want a solid brand that caters its offerings to the restaurant and bar industry so that it has the kind of features that are most applicable to your product, store, and clientele.
Leading Bars POS Systems
Ok, now you know what to look for and which features will help your bistro out the most. So, what are the best bar POS software options of 2019? Here are a few vendors we recommend, but be sure to check out others to get the most competitive pricing for your needs.
| | | | |
| --- | --- | --- | --- |
|   | Best for | Biggest selling point | Biggest drawback |
| | High-volume bars | Specifically designed for bars and food industries so has all the features you need | Complex initial setup |
| | Smaller bars and startups | Free! | Limited features |
| | Multiple locations and complex inventory | Wide range of features (tab splitting, drinks list, split inventory tracking, etc.) | Can get costly with all the add-ons |
| | Bars that work in the details | Incredible tracking and reporting | Have to use this credit card processor |
What Features to Look for in a Bar POS System
The best bar POS systems will do a heck of a lot more than taking money from your customers. In fact, good software has:
Sales tracking
Analytics and reporting
Inventory tracking
Employee management
Customer loyalty management
But these are essential elements of any POS system; your bar POS software needs to be even more. Here are the main features you want to look out for when shopping around:
Some of your customers are one-timers, just here to have a good drink and go. These guys don't want to get your coupons or holiday newsletters, so don't waste your time on them. But there are plenty of regulars that walk into your bar too. Keep track of these customers, and you can maximize your profits by inviting them in with a fun coupon during the slow season, a birthday discount, or a personalized present for reaching a certain spend limit. An integrated system allows you to use email marketing, loyalty programs, gift cards, and a lot more to manage your customers and increase sales.
Bar POS software offers managers another advantage that most restaurants don't need: accountability for their customers. When you toss some alcohol into the mix, there is no telling what can happen. Often, people will leave the bar without paying their tabs, don't remember their orders, or misplace their wallets altogether! That's why your bar POS system has all of the credit card information stored for your customers, so you don't get left with the bill at the end of a busy night.
Bar menus are constantly changing. Different bartenders mix their own drinks, and some items may or may not be available depending on who's manning the grill that night. A bar POS system allows for easy and instant menu adjustments that can be made on the spot and instantaneously go live. This way you can have substitutions depending on who is working each shift instead of wasting time on taking orders that aren't available and having to awkwardly tell customers "Sorry, we're all out of the cheesy fries tonight!"
Another benefit is the open tab feature. If you're spending the night at a bar with friends, you don't want to pay for each drink individually. What's more, your customers will probably spend more money if they can pay all at once at the end of the night. Bar POS systems allow you to keep a running tab while still tending to other customers simultaneously. You can also offer split tabs so that a group of friends can easily pay for their own drinks without things getting awkward.
One perk of being a bartender is giving the occasional free shot to friends or a hot customer. Of course, as a manager, you don't want this to happen too often, or you'll watch your entire profit margin get swallowed up (literally). What's more, when you have product items that call for a splash of this, a swig of that, or a squeeze of something else, it can get painfully tedious keeping track of expenses. Bar POS software gives you the ability to account for split inventory down to a pour so that you can accurately measure all those mixed drinks and see when too many freebies are being handed out.
Something that makes it easier for people who less frequently visit your bar to order drinks is a drink recipe list. This shows you what's in each drink, so customers know to check out the daiquiri if you like something fruity or to avoid the Long Island Iced Tea if tequila doesn't agree with you!
Other bar POS systems will offer trivia integration or table ordering, so you can order a drink without having to wait for the wait staff to arrive.
Rock solid customer support
The best bar POS software will also have reliable customer support that is not only helpful and informative but available when you need it. Look for a vendor that offers 24/7 support because bars are open late, and you might need help in the middle of the night when regular tech support has gone to bed.
Added bonus: Third-party app integration
Some POS software will allow you to integrate with other software making your entire workflow seamless. For example, Square integrates with QuickBooks, so your accounting is taken care of automatically. This is a very convenient feature, and it'll save you loads of time (and probably lots of money since you won't have to hire out these necessary tasks to costly specialists), but it isn't 100% necessary. So, if a bar POS system looks good but doesn't have this feature, you can still rest assured that you're getting a great product.
In a nutshell, Square is probably your best option if you are a small business or just starting out. Meanwhile, Toast and TouchBistro are both restaurant/bar-specific POS systems that give you lots of features and tools to work with. If you like getting down to the nitty-gritty of the numbers, sales tracking, and inventory minutia, these two are excellent for that. Lightspeed is helpful for businesses that have more than one location or branch. This could also be multiple vendors running out of a single home base but in different locations. Each one has its drawbacks and benefits, so do your homework. But you are sure to get a solid product with any of these bar POS software options.
Finding the Best Bar POS For You
Running a bar is hard enough; isn't it time you gave yourself a break? Embrace the 21st century, and let a bar POS system take the heavy lifting out of your business at last. Look for the right combination of extra features, convenience, and cost that works with your business model.