10 Best Restaurant POS Systems for 2019!
February 5, 2018
Article by Belinda Anderton, Last update at December 10, 2020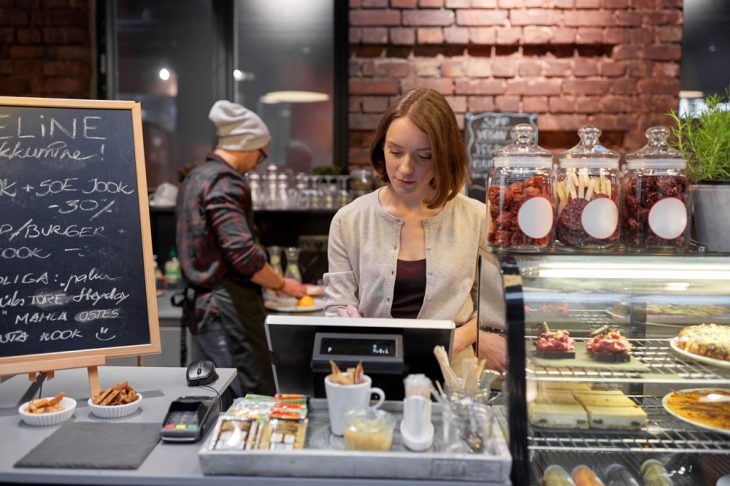 A Point of Sale system is the future of commerce and something that will help advance your business as technology and sales march forward. A POS system offers businesses both small and large the ability to personalize their services to fit the unique brand and flavor of their audience, stronger analytics, and more efficiency in every area of business.
After testing across the industry, we've narrowed down the best point of sale software options out there and positioned them for a side-by-side comparison of the most important features for you. So, you can cut through all the marketing gimmicks and choose the system that will serve you and your customers best.
The best restaurant POS systems 
Touchbistro– another excellent iPad based POS system and is rated number one in 37 countries.

Lightspeed- an excellent POS system for a chain of restaurants but lacks features for delivery and takeout.

upserve – Upserve is a customizable POS system with excellent reporting features but poor inventory management 
Toast – Toast is a fully featured restaurant's specific POS system that is sure to meet your needs but comes at a cost.
Square – Best for Quick-Service Business or Best for Mobile Businesses
Compare Top Best POS Systems for Restaurants
TouchBistro: Overall Best POS System
TouchBistro is one of the foremost restaurant POS options on the market. Catering to restaurants of all sizes, TouchBistro focuses on the features that will make running an eatery as efficient and productive as possible. With powerful tools like digital floor layouts, tab splitting, and tableside ordering, TouchBistro makes it easier for management and wait staff to do their jobs while enhancing the overall experience for the customers as well.
Lightspeed restaurant POS system- Best Range of Features
While it can be used for all types of businesses, Lightspeed POS excels in the restaurant and retail POS fields. Having the capability to service both these industries enables restaurants certain useful features that are often lacking in the more exclusive or basic restaurant POS systems. For example, Lightspeed has excellent marketing tools for promoting your bar, cafe, or restaurant, something that other POS software lacks. You can build loyalty programs, offer gift cards, and run promotional sales to attract business and drive sales. Lightspeed also has strong security features like leveled permissions, along with all of the core restaurant POS features like tableside ordering, kitchen display, and menu management.
EMV-certified

Built-in e-commerce shop

Strong security features

Marketing tools included
Upserve (Aka Breadcrumbs)- Best Easy to Use POS system
Upserve, or what used to be Breadcrumb POS until recently, is one of the most feature-rich POS systems on the market. That makes it ideal for a wider range of business. It gives you a ton of handy tools like a aining mode for new employees, in-depth analytics, and team collaboration for efficient wait and kitchen staff coordination. Upserve is also designed to be extremely easy-to-use, so you can pick up the system quickly and multi-task with ease using this tablet-based, cloud-based restaurant point of sale software.
Toast POS – Best for Total Restaurant Management in 1
Another popular restaurant point of sale system, Toast POS also has a feature-rich offering that will enable food establishments of all types to serve their customers better. From kitchen management to inventory management, Toast POS really keeps you on top of things. The reporting functionality is also top-notch, including sales reporting, customer reports, and even menu analytics that help you see which items are hot and which are not.
Full restaurant management

Flexible pricing structure with easy scaling

User-friendly tablet-based

Delivery service feature
Square POS – Best for quick- service Business or Best for Mobile Business
Square POS is a recognized name in the sales software industry, and the POS product has become popular over the last few years. This system caters to smaller businesses such as online retailers, on-the-go or mobile stores, food trucks, coffee shops, boutiques, and the like. It provides an easy-to-use, fast, and lightweight business solution including credit card processing, real-time inventory management, and sales tracking. And what's more, you can't beat the pricing. 
Easy, instant menu customizations

Free!

Free magstripe reader for mobile credit card processing included

Operates in offline mode
Lavu POS – Best iPad-based POS system
Lavu POS has a lot to offer, especially bars and smaller restaurant chains. The simple user interface is a welcome alternative to the cluttered designs of some POS systems, and the staff onboarding and training features mean your employees will know how to do it all in no time. Lavu also has excellent payment processing options including contactless payments, magnetic strip cards, chip cards, and more.
Clean, simple UI

Staff onboarding

Top quality hardware and technologies

Good inventory management
What's a restaurant POS  System
A restaurant POS system, also known as the restaurant point of service, helps businesses manage every area of their existence. From inventory management and order to employee hours and wage calculations, the right restaurant POS can govern your entire enterprise. Whether you are a one-man-shop operating out of your basement or a major corporation with multiple locations across the country, a good POS system will help you stay organized, maximize efficiency, and excel at providing professional services to your customers.
What do you need in your restaurant 

POS system
Is it fast and intuitive-  The food and drink industry is a fast-paced service in which things are constantly moving and changing. Menus change daily or even periodically throughout the day. Bars and nightclubs have seasonal or holiday features that are always fluctuating. And all restaurants have new chef specials or other aspects of their offerings that need updating on a constant basis. That's before we've even mentioned the insanity of a lunchtime rush that you need to keep up with. For this reason, a good restaurant POS system has to be easy to learn and use and work quickly.
Does it track inventory for you-  The last thing a bar wants is to run out of the main ingredient in its signature drink. Whether it's organic cane sugar, Tanqueray gin, or just good old vodka, you need to know that the ingredients you need are there when you need them. Which is why the right POS system for you will include a real-time inventory management system. This will keep track of your inventory, record each time an item is used, and notify you when something is running low. Really good systems will even let you set up automatic inventory ordering, so you can restock your coffers even before you know they were low.
Does it have credit card processor capability– We've entered a paperless era, and one of the most prominent indicators of this shift is the almost universal practice of using credit cards over cash these days. A restaurant that cannot process cards shows a glaring lack of professionalism, and what's worse, it will undoubtedly lose tons of business daily because of this lack. Fortunately, the best POS systems for restaurants all offer credit card processing capabilities. Some are more expensive, and others offer greater capabilities such as mobile, EMV-compliant, or chip-enabled reading. Whatever the mix though, make sure your restaurant POS has this feature included.
How holistic is the analytics and reporting view– The best POS systems today are going to be your right-hand man. The one feeding you the inside information about your products, customers, and employees. The software can hone in and give you snapshots of a specific time period or area of business, show you which items are selling well when, and which employees are really earning their paycheck.
Does tech support deliver on its promises- While we always want good customer support, a restaurant POS brand really needs to deliver on this promise. Between employees, scheduling, inventory, sales analytics, and overall management, you have more than enough on your plate without having to think about the technical side of things. When your system shuts down, be sure there's reliable, competent, and available tech support to reach out to.
Restaurant POS pricing
This is a tricky one. Restaurant point of service systems will vary in pricing based on a lot of things; features, plan length, hardware, business size, payment processing power, and more. Obviously, you aren't going to expect the same pricing structure for a fine dining establishment with branches across the globe as you would for a food truck, and you wouldn't even want it. A food truck doesn't need all the big guns that a corporation requires (and certainly not the price tag that comes right along with them). So, restaurant POS software will frequently be priced to suit your niche from casual dining, fast food, bars and nightclubs, cafes, bakeries, and more.
Monthly fees, contracts, or pay-as-you-go: there are a lot of options when it comes to choosing the best restaurant POS system for a small-to-medium business.
Toast and Lavu are both attractively priced for smaller business owners. Toast offers a few different pricing options and comes in at around $79 per month, while Lavu offers a monthly pricing system of $59 with additional services on request. Lavu POS systems also offer flexibility when managing multiple locations and real-time access to sales data and employee management and offer various types of customization whether your own an ice-cream shop, a pizza place or a silver-service, fine dining establishment. On the other end of the spectrum, both Touch Bistro and Revel offer quote based pricing which will depend on the customization that you choose.
ShopKeep comes it at around $2.50 per day, and though it is a 'no-frills' cloud-based POS system, it allows restaurant employees to process sales, track inventory and even email and print receipts using an iPad. Easy-to-use is one of the most often repeated customer reviews of this restaurant POS software. Employee training is simple, and its clean interface means it's a great no-frills option for a small restaurant. Though it doesn't have some of the feature-rich additions offered by other types of POS software, it's a reliable starting spot for any SMB in this industry.
Square has a unique pricing structure that doesn't force a restaurant owner into a lengthy monthly contract. This lowered barrier to entry makes it perfect for pop-ups, kiosks and mobile businesses. It also offers the ability to scale and increase the feature set as the restaurant grows. The 'Square Stand' turns an iPad into a complete cash register and allows for integrations with TaxJar and QuickBooks for payroll management and invoicing.
With Breadcrumb you'll need to make a purchase for your first terminal, but you can choose to lease future terminals as the business grows. One of the best choices for a full-service restaurant, Breadcrumb offers a full-service of features including customization of menu items, table maps and sales tracking in real time using the Breadcrumb Live mobile app.
What is a cloud-based restaurant POS system?
One feature you've probably seen advertised is cloud-based systems. The beauty of having your POS cloud-based is that it comes with you wherever you go, doesn't take up any of your own space, and can be automatically updated in real time from multiple locations. It's also much cheaper in terms of IT costs, easier to scale, and helps keep your data safely stored indefinitely. Cloud systems provide you with flexibility, easy collaboration, and automatic updates to the software. Basically, it's the only way to fly.
Why do you need a pos system designed for restaurants?
Restaurant POS software is specifically designed and caters to the unique differences and business requirements that come from the food and drink commercial enterprises. These systems focus on things like minimizing order confusion, maximizing communication between kitchen and wait staff, and cutting back on wasted time throughout the serving process. This all leads to maximum efficiency and turnover, so you can deliver the best experience to your customers while increasing your sales.
One feature you've probably seen advertised is cloud-based systems. The beauty of having your POS cloud-based is that it comes with you wherever you go, doesn't take up any of your own space, and can be automatically updated in real time from multiple locations. It's also much cheaper in terms of IT costs, easier to scale, and helps keep your data safely stored indefinitely. Cloud systems provide you with flexibility, easy collaboration, and automatic updates to the software. Basically, it's the only way to fly.
Move Away from Cash Register – Tableside POS Systems
Tableside POS systems are becoming even more essential to maximize speed and efficiency in a busy restaurant. According to the Los Angeles Times, Olive Garden said wait staff using the payment tablets see a 15 percent increase in tips and turn over their tables seven to 10 minutes faster. A spokesperson noted that "Guests can set the pace of their meals by ordering drinks, appetizers, and desserts as they want them and pay their checks with ease whenever they are ready."
One of the top choices for a tableside POS is TouchBistro, geared mostly for smaller cafes, bars, restaurants and food trucks though completely scalable to larger establishments. The tableside POS is handled via an iPad and makes transacting much faster along with additional features like employee and customer management as well as payment processing. Toast is also regularly listed as one of the more robust solutions for tableside transactions and additional features like 'Quick Order' you're guaranteed to provide a fast seamless experience for your customers.
Revel is another great option for a cloud-based restaurant POS system, the addition of integrations to third-party applications like QuickBooks and ApplePay, make it an attractive option for restaurant owners that want customizable full-service software.
Android or iOS for your POS?
One of the key decisions you'll have to make when purchasing your restaurant POS system is whether to use an iOS or Android based system. To make the best choice, you need to look at which system offers the most flexibility and customization for your restaurant, and not necessarily what you prefer to use personally.
In terms of flexibility and reliability, Android is often touted as most suitable for restaurants, and it is more affordable. That said, many of the top restaurant POS systems like ShopKeep, Revel and Lightspeed run only on iOS.
Many reviewers consider Apple to be more secure for financial transactions based on the availability and frequency of Apple updates, but Android offers a lot more features and a high degree of customization. Toast POS is one of the very few Android-based POS systems and provides more customization than iPad based restaurant POS systems. You may also want to look at some of the restaurant POS systems that offer a choice between the two, like Square and Vend.
It is also possible to choose a POS system that runs on a proprietary system like Clover, which ensures that you're not susceptible to cloud-based 'glitches' that do occur with both Android and iOS.
With the ever-expanding array of feature and functionality available on all restaurant POS systems and software packages, choosing the one that will help your business can be tough. Comparisun provides a sophisticated classification of Restaurant POS system reviews that allows SMBs to delve into the features and look at customer reviews to help them decide which feature set will suit their needs. Having an overview of the top restaurant POS systems is the best place to start before looking at specific features.
At the end of the day, the right POS software for your restaurant will depend on your business needs and customers. A smart POS software means smooth operation and happy customers, which leads to increased revenue. So, everyone's happy.