Food Truck POS – Your Keys to Success
August 22, 2018
Article by Belinda Anderton, Last update at May 27, 2019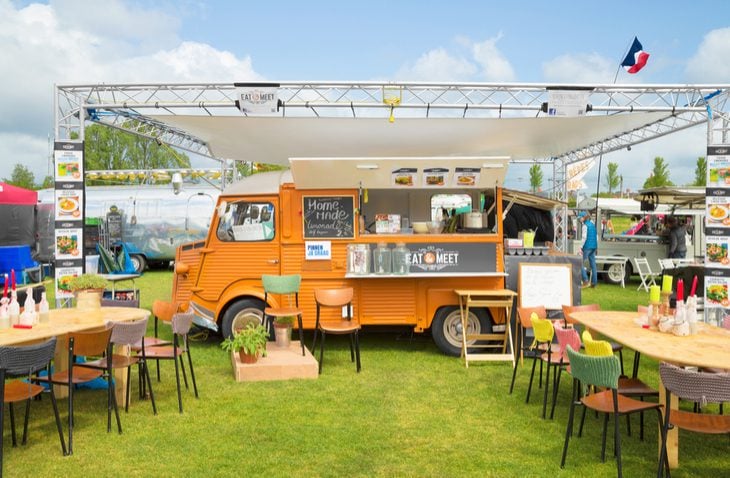 Your food truck business is part of a growing industry that shows no sign of slowing down in 2018. According to an IBISWorld report, the food truck industry in the US has created jobs for over 14,000 people and showed an annual growth of over 7% since 2012. However, with increased legislation and even push-back from brick-and-mortar restaurants, it's becoming more challenging to own a successful food truck business. Here are ten strategies to help you keep your food truck rolling in 2018:
Find the Best Food Truck POS – Your 

System for Success
A food truck POS system is not just a big help in receiving and processing payments. Cash only operations can be cumbersome, slow down service, and also inconvenience customers, especially those that only have credit or debit cards on them when they want to eat your tasty food truck eats! Choosing a food truck POS is a significant decision that needs to be taken carefully. Every food truck owner has different needs when it comes to a POS, so be sure to compare service providers and choose one specific to your business plan and operating structure, as well as making sure that it's a POS for mobile food trucks that can scale as you build your business.
Accounting Systems and Your Mobile Food Truck POS
Part of great overall customer experience is having reliable and efficient payment processing systems in place. You'll probably be reliant on mobile payment processing in your food truck and making sure that you have the best POS system for food trucks, will help when it comes to integrating your mobile payment processing systems. Whether you have multiple trucks in your operation or just one, having instant visibility of payments processed and sales data across your operation is a huge advantage that cashless systems and software will provide you.
It All Starts with a Plan
If you're just getting started as a food truck owner, one of the foundations for success is to have a solid business plan in place. Just because your new business is not brick-and-mortar, doesn't mean you don't need a great foundation. Your business plan needs to be flexible enough to adapt to change, but solid enough to build your business. Part of a successful plan is doing some research – find your niche, delve into the characteristics of your market. Your business plan should also include a specific food truck POS system. Not only is a POS considered essential in the restaurant business, the right one can help you plan every aspect of your operations: from menus, to stock, and suppliers, to invoicing and receipts.
Location, Location… Location?
A successful food truck business might be mobile but finding the right place to park for the day is essential to your success. Having the right permits, licenses and paying attention to parking ordinances and local laws will keep your business moving, literally. Get creative when it comes to looking for locations for your business; one of the advantages of owning a food truck business is that you can find new and interesting spots around town and even get set up close to large events which will bring invaluable customers. One thing to note about the location is to always make sure you have a good connection to the internet: When you are running a food truck business, a lot of your 'back-office' functions will rely on having consistent and reliable Internet access.
Get the Dream Team On Board
Having the right team will be a vital success factor. Small business owners must surround themselves with employees that share their passion for the product and for creating fantastic customer experiences. Many successful food truck owners say that having dedicated, passionate employees may be one of the most important factors in their success. Reliable and dedicated employees are an integral part of your business: You're not only working in more cramped conditions than normal, you often need to think on your feet, get creative about handling diverse clientele and offer a service to your customers that is fast and seamless, as well as delicious and different.
In Food Trucks Customer Service is King
Great customer service is another key element in any fast food environment and especially for food truck businesses. Word of mouth reviews can now travel thousands of miles, thanks to social media, and a bad review can puncture your food truck business even before you've started your engine. Food trucks may be slightly more relaxed when it comes to style, presentation and menu, but that doesn't mean that your customers want less than perfect customer service. Bad reviews kill food truck startups faster than any other factor. Part of creating a legendary food truck business is to make sure that your customers keep coming back and spread the word.
Added Value – Try Something Different
Every food truck business owner is trying to offer something different, something that will catch the attention of the crowds and ensure business success. It's not always that easy. Try different things and be aware that something that works well in Miami, won't always be a huge success in Seattle. Look for ways that you can make a difference in your product; what's on your menu, in your customer service and in how you advertise and market your business. Most food trucks are owner-operated so it could be that the elusive magic element for success is YOU!
Speedy Prep and Suppliers on Speed Dial
Speed of preparation might sound like an odd choice for a success factor in a food truck business but having systems in place that help you get more of your menu out to more people is an obvious one. Along with this is having good access to the ingredients that you need to prepare your culinary masterpieces. If you're going to be on the move and travel significant distances, then make sure that you have good suppliers of produce and products that you need at each place you intend on stopping.
Back Office Bonanza
In a food truck, your back office is often quite literally your storefront as well. Systems and processes need to be thoroughly planned before you open to the public. There is food truck software available to help you streamline your business via point of sale, and with the ever-expanding range of integrations offered by POS solutions providers, you can find a system to cover supplier invoices, payments, accounting, employee payroll and payment processing.
Passion Makes Perfect!
Last on the list, but the first ingredient to success is passion. Owning a food truck business is all about passion. It's also all about hard work, dedication and working under difficult, cramped conditions for double-digit hours every day. Passion and planning are the two elements that will propel your business from one food truck into a fleet.