On-The-Go: Why Mobile POS is a Must for Your SMB
March 26, 2018
Article by Belinda Anderton, Last update at November 25, 2019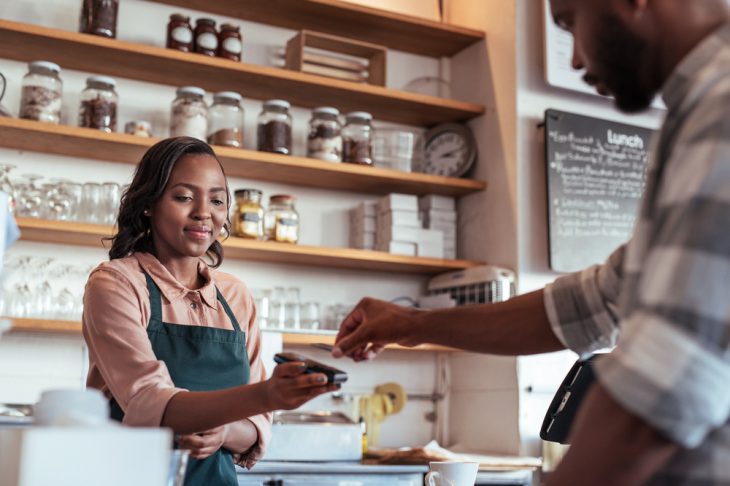 Your on-the-go (and growing) business needs technology on-the-go to connect with more customers in new and exciting ways. Mobile Point of Sale Systems (mPOS) allows a busy retailer, restaurant or any other type of small business to process payments faster, provide better customer service, and give sales employees, whether they be busy wait staff or rushed retail consultants, information at their fingertips. Mobile POS is readily available to business owners at a much lower cost than a traditional POS system. A mobile POS system allows a small business owner the freedom and flexibility to accept payments by card anywhere. Portable, easy-to-use and the ability to connect to a traditional POS make mPOS a good choice for SMBs in a competitive market.
What is a Mobile POS system?
Your mobile POS functions in the same way as a traditional POS in the receiving and processing of payments via debit or credit card and even some purely online transactions like PayPal. In its simplest form, a mobile POS system can be a small handheld, wireless device that acts like a credit card processor, (a tablet or mobile phone) that has the software installed to enable the payment processing. Mobile point of sale systems can function anywhere there is access to a network connection and make doing business anywhere in the world a truly portable process.
The Difference Between Mobile POS and Mobile Payments – Why You Need to Know
If you're looking around at the best POS for your small business and think that mobile POS is the way to go, you need to make sure you understand the difference between being able to accept mobile payments and a mobile point of sale system. It's a subtle difference but understanding it could help save you money in the long term.
mPOS is a smartphone, tablet, or other wireless devices like an iPad that has been configured to function in the same way that a traditional POS system works in a brick and mortar business. A mobile POS refers to both the hardware (your smartphone) and the software (mPOS platform provider) that you choose.
Mobile payments via the mobile card reader, however, are things like mobile wallets, and mobile transfers as well as peer-to-peer payment systems. You can get a mobile card reader that is a small device that can be plugged into your smartphone to function as a credit card terminal.
The subtle difference between the two is that a mobile card reader does not provide additional services and software that is so often needed in a small and growing business. Sales analytics, accounting software, and inventory control are all available in different mPOS systems and may add deeper levels of business insight when you scale up.
Development of Mobile POS
Square was one of the first companies to introduce a mobile credit card processor back in 2009. Now one of the largest mobile POS system developers, the company processes over $35 billion in transactions per year. Since then the market in mobile technology for business has exploded and while the technological advances help drive the industry forward, it does make for a difficult time when it comes to choosing one for your business.
Tough Choices – Evaluating Mobile Point of Sale Systems
The cost of your mobile POS system can range from free versions with basic features to pay-as-you-go options, from monthly contracts to custom designed systems with custom pricing. Depending on your annual turnover, it might make sense to look at mPOS devices that you can purchase outright with a minimal monthly service charge and no rental contracts. Square is a good example of a mobile card reader that is supported on both Android and iOS devices. Transaction fees are slightly higher than PayAnywhere or Intuit GoPayment but Square offers a few additional features for integration with other POS systems.
The mPOS business model is a perfect fit for entry-level merchants. Only having to use a smartphone to get started, mPOS systems usually come with card readers supplied by the vendor meaning that there is no wired infrastructure needed to get started. It is true that mPOS systems come with their own set of associated costs including some hardware, software and maintenance contracts, these are generally lower that legacy POS systems. You might also choose to look at mPOS solutions that come with proprietary hardware – the Toast tablet system is an example of POS system integration that is on offer to small business owners.
MPOS and The Cloud
Do you have a cloud-based inventory management system included? This is an important question to ask a potential mPOS provider. A cloud-based inventory management system allows for real-time data feedback on the stock. Lightspeed Retail offers a cloud-based MPOS as does Touch Bistro. This means you've got the flexibility of a hand-held mobile card reader with the back-office capability of a legacy POS.
mPOS solutions have the potential to rake in additional revenue, however, it's still a form of investment for most business. Businesses should ensure that their ROI from the solution goes way beyond their costs. The increasing use of mPOS can be seen across its various applications, such as bill printing, inventory management, and digital payments. Industries such as entertainment, hospitality, and retail are the key users of mPOS and are finding it highly convenient and affordable to implement its technologies and services. mPOS can provide a wide scope of freedom in the movement of commodities and can allow for a greater level of customer satisfaction than conventional payment methods. Additionally, it is an affordable solution that does not require large investments in core support software.
Choosing Mobile: Slow Down the Process
If you own a small business, especially coffee shops, fast food restaurants, food trucks, thrift shops, flea market stalls, and small contractors would benefit from a mobile card reader that can be linked to a mobile POS system for deeper analytics. Larger businesses would benefit from POS systems that offer more features like mPOS while a cloud-based POS system is ideal for larger stores and businesses with multiple stores. It's is important to evaluate all the features offered by POS system providers and weigh them against your current business needs and future business plans. Critically review, test and demo as many systems as you can before you make your decision.