5 best Pizza POS Systems for 2019!
April 23, 2018
Article by comparisun.com, Last update at June 26, 2019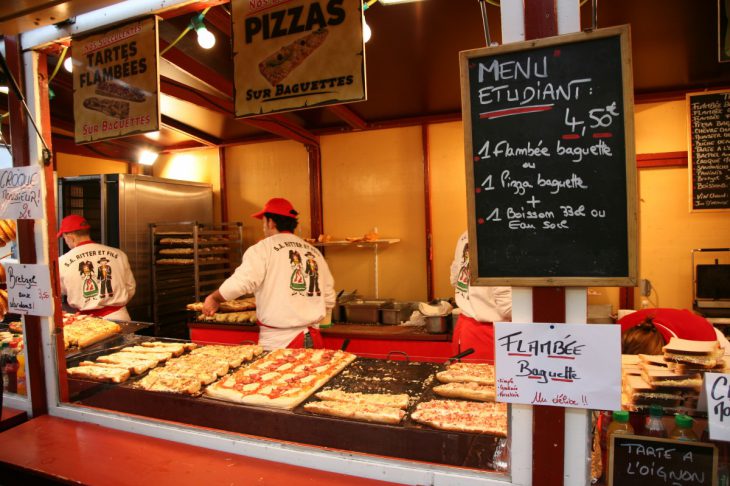 According to statistics from 2017, the market value of the pizza industry in the US alone was an eye-watering $50.07 billion… and it's projected to grow by a further 22% in the next year or so.
With so much pizza-based competition – and demand – pizza businesses need to be able to do two things: produce a tasty product and smoothly handle orders/checkout process. To put a long story short, any pizza business worth their bread needs a POS which can hold up to the demands of running a pizza restaurant. See the pizza pos market value 
The Best Pizza POS Systems 
Shopkeep – Shopkeep is an iPad based POS system that allows for maximum web and mobile integration to bring your pizzeria into the 21st century.

Touchbistro – Another excellent iPad based POS system and is rated number one in 37 countries.

Lightspeed- An excellent POS system for a chain of dine-in pizzerias but lacks features for delivery and takeout.

upserve – Upserve is a customizable POS system with excellent reporting features but poor inventory management.

Toast- Toast is a fully featured pizzeria specific POS system that is sure to meet your needs but comes at a cost.

Compare The Best POS Brands of 2019
Shopkeep: The Simple, Smooth, Easy-Ordering Pizza POS System
Shopkeep is an iPad based POS system that allows you to set up features such as online ordering and loyalty programs with ease. It also can automatically send orders to the kitchen, meaning your servers can save time while taking orders. Shopkeep is designed to meet the needs of small to medium-sized pizzerias and can support multiple locations. Using Shopkeep, you can easily reach out to your customers and even setup business-wide promotions to attract customers. The best part, you can check in on your stores from anywhere using the Shopkeep mobile app.
Price: To get an accurate estimate for Shopkeep, you need to contact a sales rep. The initial cost is $69 per month, but it also offers several add-ons which can change the rate depending on the add-ons you choose and the size of your business.
ShopKeep Features – Offers a comprehensive register system. It allows for all basic functionality as well as the ability to easily divide orders between different accounts. 

Shopkeep Inventory: Shopkeep offers excellent inventory management features that outperform many other POS systems. It provides automatic inventory deductions based on orders, and you can set reorder points to let you know when you are running low on a particular item.

Customer Relations: Customer relations could not be easier than with Shopkeep. It allows you to set up loyalty programs and promotions quickly.

Reporting: The reporting suite offered by Shopkeep is excellent and can provide reports for sales to a particular customer, profit per sale, and cost reporting. You can even run reports to track discounts

Shopkeep Advantages: Some of the drawbacks of Shopkeep are their customer service and software bugs. While bugs are fixable with updates, customer service tends to decline after the first few months of use.
TouchBistro: The Ultimate Fully-integrated Pizza POS System
TouchBistro allows you to track almost every aspect of your restaurant efficiently. You can use it for scheduling and automatic inventory tracking. It can even be used to track delivery routes. It also contains several customer relations options that can be used to retain existing customers and attract new ones. It's no wonder TouchBistro is number one in 37 countries.
TouchBistro Features –  TouchBistro offers several tiers of pricing. It ranges from $69 per month for a single location to $300 per month for large chains.

Features: As for features, TouchBistro sets itself apart by being run on a local network, not the cloud. This means that you need a server, but you only need internet access for credit card purchases.

Touchbistro Inventory-  TouchBistro allows you to create recipes for tracking inventory. With this feature, you create a recipe, and the ingredients are automatically deducted from your inventory when a customer places an order.

Customer Relations: You can use TouchBistro to create customer profiles for rewards programs. This feature is not included though and costs an additional $49 per month.

Reporting: Over 50 reporting templates are available. These include reports for everything from employee productivity to tax reporting.

Toucbistro Advantages-  For all its features, there is one that TouchBistro does not offer. There is no online ordering available with TouchBistro.
LightSpeed: The Fastest Pizza POS System Out There
LightSpeed is a POS system specifically designed for the restaurant industry.  It allows for easy tracking from order placement to delivery. There is also no risk of losing data. All data is automatically backed up to the cloud. Despite its features, LightSpeed is easy to learn and use.
lightspeed Features – What LightSpeed offers that sets it apart from the competition is the ability to manage multiple locations easily. You can have a central database of gift cards as well as quickly transfer inventory between sites and more.

lightspeed Price: Lightspeed costs $69 per month for a single register. If you need more than this, you need to contact the vendor for a custom quote.

Inventory: Inventory management is perhaps LightSpeed's best feature. It allows you to manage inventory automatically and manually as well as transfer stock between location if needed.

Customer Relations-  LightSpeed offers similar customer relations programs as other POS systems on this list. It also allows for time-specific promotions such as a happy hour.

Lightspeed Reporting and Analytics – LightSpeed contains the same sales reporting as most other POS systems. It also allows you to create custom reports based on several criteria.

Lightspeed Cons: LightSpeed is specifically for dine-in restaurants. It, therefore, lacks online ordering and delivery tracking features.
Upserve: Unique Features That Allow Your Pizza POS to Thrive
Upserve is targeted at medium to large restaurants. It allows you to manage everything your business needs easily. You can easily create and upload menus as well as setup marketing and customer relations. UpServer can also function offline. While you won't be able to run credit card transactions offline, cash purchases continue to work.
Upserve Features – UpServe offers one of the most important, but often overlooked features in the pizzeria business, online ordering. It also provides a customizable interface, making it easy to set up for your specific needs.

Upserve Price – UpServe is one of the more expensive POS systems on the list. It starts at $119 per month, but contact the vendor for an exact cost.

Upserve Inventory – Inventory management is one of UpServes most significant weaknesses. It does not allow for ingredient level tracking and only alerts you when someone makes significant changes to stock levels.

Upserve Customer Relations – UpServe does offer the option to sell gift cards. It does not, however, offer a loyalty program.

Reporting and Analytics-  UpServe offers reporting for sales, end of day reports, and many of the same reports as other POS systems. It does provide employee reporting to track productivity as well, however.

Upserve Advantages – Inventory management is minimal compared to comparable products. It lacks many of the features offered by cheaper competitors.
Toast: Most Clean 

Pizza POS to Use
Toast Pizzeria is a variant of Toast POS that was made specifically for the Pizzeria business. Where most restaurant POS systems focus on either front end management or back kitchen tracking, Toast works with both of these approaches. It also offers features you would expect of a pizzeria POS system such as delivery tracking.
Toast Features – Toast Pizzeria offers easy setup for online orders as well as phone orders. It also has tracked for delivery orders.

Toast Price: Toast cost a reasonable $79 per month. It does also have an upfront cost of $899 for the required hardware and $499 for the professional installation necessary.

Toast Inventory: Toast offers some of the best inventory management in restaurant POS systems. It allows you to set recipes to track over portioning as well as burnt orders, employee theft, and other potential losses.

Customer Relations: Toast stores customer data to easily track online orders as well as a report which customers spend the most. It also offers an optional loyalty program.

Toast Reporting: Toast can create reports to show pizza sales trends, including which days and times, are busiest. It can also report employee productivity to ensure maximum profitability.

Toast Advantages: The biggest disadvantage of Toast is the initial setup costs, $899 for hardware and $499 for installation. The other big drawback is that it lacks integration with accounting systems such as QuickBooks.
Why a Pizza Restaurant Needs a Specific POS System?
With such a customizable product, there are hundreds of potential order combinations.

Pizza takeout is just as popular as eat-in orders, meaning any POS needs to be able to handle both orders, effortlessly.

Independent operators need to find ways to compete with big chains – therefore, stay relevant, having promotions and even loyalty clubs.
Necessary Features for a Pizza POS System 
It must be customizable, able to handle every combination of order and even be able to save order templates for pre-customized pizza offers.

It has to be inventory ready – it should be able to track how much of any item remains: no customer should ever go without a mushroom topping!

It should handle orders both placed in-house and online for delivery: any good pizza POS system will integrate menus, cutting out any expensive middleman delivery company.
How to choose?
Think about the needs of your pizza restaurant and what your customers are asking for. Do you provide an array of pizza toppings and lots of customizable menu options or do you stick to a more traditional, simplistic Italian menu? Are you a medium-sized growing business or a small mom-and-pop shop content with an always-busy restaurant floor? Whatever your niche is as a pizza restaurant, there's a POS system with the right features for you.