Key Features
TouchBistro Reservations – Integrated fully with the POS, this platform lets you accept reservations through Google, your website, and the new TB Dine website and mobile app.
Staff Management– Control staff with clock in and clock out access, allocate duties and keep track of overtime and salaries
Menu Management – Customize anything, from the way you view the menu, to adding modifiers, images, setting scheduled menus and more. Plus, with the ability to create and edit your menu on the cloud portal, you can stay on top of your business from anywhere, at anytime.
Kitchen Display System –Send orders to the kitchen wireless and manage orders effectively. Colored coded tickets assist with time management
Table Organization –Add and edit reservations and move tables around, adjust floor plan and payments
Order Taking – This in-house online ordering system lets you take orders right on your own website.
Online Ordering– TouchBistro's Online Ordering integration lets you streamline the leading online ordering platforms directly into your POS.
Loyalty – TouchBistro Loyalty is seamlessly integrated into your TouchBistro POS and designed to help you build relationships with your guests.
Kiosk –Customers can order for themselves at the table for quick and efficient ordering
Manage Inventory-Ingredient level inventory tracking and cost report with low inventory warnings
Pricing
TouchBistro offers 4 different pricing structures.
Solo offers 1 license for the monthly fee of $69 ($109/mo. with hardware included);
Dual offers 2 for $129/month ($229/mo. with hardware included);
Team offers coverage for 3 toraises it to 5 licenses, and costs $249 per month ($389/mo. with hardware included) ;, and
Unlimited, which is designed for large businesses, or chains you can choose Unlimited,
which offers as many licenses as you would like for $399 per month ($579/mo. with hardware included).
There is also a 30-day free trial available.
Things To Note
TouchBistro is specifically designed for Apple users. If you are not familiar with this system it could prove to be a problem.
TouchBistro is not compatible with USB or parallel printers
Installation and training would require more than 3 weeks to get an appointment with customer service
You may be charged for extra training hours
Can prove a bit expensive for the small business owners 
In A Nutshell
For people in the foodservice business, this is the ideal POS system. Functions available on the TouchBistro POS system are custom made for the restaurant business. Being able to re-arrange tables, combine or separate payment slips with such ease is a time saver for management and staff. The iPad cloud-based system allows for the mobility of staff and even table ordering by the customers themselves.
Wireless sending of orders to the kitchen with color coded time stamps will make the chefs far more efficient especially since there will be less mistakes with the orders. Customized reports for immediate information on sales and payments pending, can be viewed from any location at any time. This makes it easy for management to keep up with real time activities.
Let's Dive Deeper
TouchBistro allows you to customize your menu to the point of even adding cooking instructions per item. Custom modifiers are also added so that you can pinpoint exactly what the customer orders with their preferences. The features offered will keep track of daily specials and even automatically remove items that are out of stock. Inventory control to the level of small ingredients used, will give you a clear indication of costs and also warn you when you are running out of certain items.
Customized and personalized staff profiles are created to keep track of where staff members are assigned, their productivity track record, how much overtime they have worked, what time they logged in and out, even how much they have earned in tips. Customize permission for staff to access specific levels of the system according to their position. Mobile devices allow your staff to be more effective and reduce errors when taking orders and making changes. Full control of staff management is at your fingertips with TouchBistro.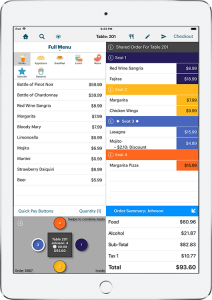 Manage your tables and reservations directly from your iPad. You can add and delete seats and move entire tables when necessary. Organize your table seating according to your reservations and have all the staff fully aware of the floor plan. You can customize your floor plan to match your bar area and seating area with the design of your establishment. Having a multi-level floor plan makes it easy to combine tickets from the bar and transfer them over to the dining area so that the customer is charged with one invoice.
Instead of the usual printing of tickets, get a KDS, kitchen display system to empower you chefs in the kitchen. The KDS will display a color coded timestamp so the kitchen staff will know how long the customers have been waiting and also be able to track cooking times by tapping the system. This will allow the staff to close off chits as orders are sent out giving them full control and the efficiency to handle incoming orders.
For restaurants who want to reduce waiting staff and give their customers the ability to place orders themselves there is the TouchBistro Kiosk. Apart from reducing labor costs this method will allow customers to decide and order what they want in record time and the orders will be sent wirelessly to the kitchen. It is surprising to note that customers will order more this way. Self-ordering is a way of getting the customer involved with the whole process and eliminating any mistakes with the orders.
Monitor movement and transactions through TouchBistro's cloud reporting from anywhere at any time or instore through the iPad. At the touch of a button you will be able to view sales reports, inventory, and number of customers, top menu categories and labor reports and have a real time picture of what is happening in your restaurant. With over 20 types of reports you will be able to make informative business decisions on any aspect of your business.
Partnering up with one of our integrated PSP systems will allow you to receive any type of payment including gift card payments. Reports regarding types of payment and detailed credit card transaction can be viewed at any time. At the end of the day all this information can be transferred to one of TouchBistro accounting partners whose systems are fully integrated.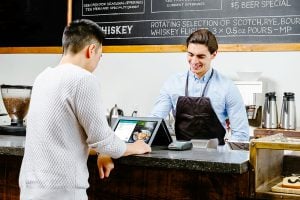 Get all your Apple hardware requirements from TouchBistro. Depending on the size of your restaurant you will need the latest model iPad Pro, Apple Mac Mini or iMac Computer which is the brains of the whole system, multi iPad setups, monitor, keyboard and mouse. Other than the computer hardware you will also need an Apple router, Ethernet or Thermal printer, a cash drawer, wireless Bluetooth barcode scanner and iPad stands or enclosures. For accounting you will have to partner with SHOGO or XERO which is integrated into the TouchBistro POS system.