Your Guide to Mobile Merchant Services
December 24, 2018
Article by Sarah Pritzker, Last update at November 10, 2020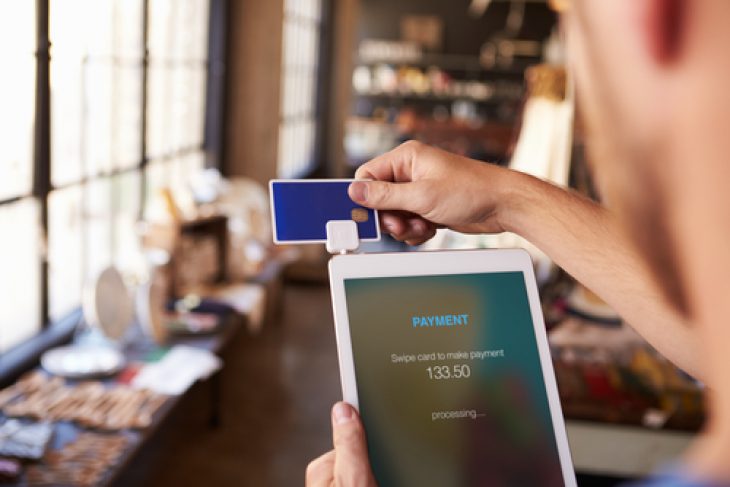 Having a good service or product is only the first step in running a successful business. In today's culture, technology is advancing at break-neck speeds, with mobile accessibility and functionality ranking at the very top.
Along with these advancements in mobile living comes the growing expectations of your consumers and clients to be able to incorporate mobile into their transactions (and on many levels), so just to keep customers willing to consider your brand, you'll need to be efficient, up to date, and convenient.
This non-negotiable demand is one of the reasons mobile merchant services are a must have for any business today. What are mobile merchant services, how do they work, and what can they do to improve your business right now is what you'll find out by the end of this article. So, grab a cool drink, and dig in!
What are Mobile Merchant Services?
Mobile merchant services are a new way for businesses to accept payments through a cell phone or other type of mobile device (tablet, card reader, etc). These services are very similar to the traditional merchant services that businesses are already using to accept payments. Mobile merchant services simply offer more versatility, flexibility, and reach.
When a customer purchases something from you (whether for goods or services), a whole chain of events gets triggered. It looks something like this:
You need to run the credit card information

This information is delivered to your bank

The bank then sends this info over to the payment processor

From here the data goes to the card association (whichever card company you are using – Visa, MasterCard, etc.), which in turns sends it to the issuing bank

This is the most important step because it is here that the card will be approved (or denied!) for the transaction

The issuing bank sends an answer back to the credit card association, which then sends it back to your bank, at which point the answer finally arrives at your payment terminal
If the card is accepted, your payment terminal will print a receipt or create a mobile receipt to complete the transaction. While this process seems lengthy and tedious, it actually happens in a matter of seconds, and you receive an answer on the spot.
So, whether it's a more standard mobile credit card reader, in-app payment accessibility, or the more advanced mobile payment processing like NFC (near field communication) and contactless payments like Android Pay, Samsung Pay, and Apple Pay, your business is going to need mobile merchant services in order to accept those payments.
Do You Need a Mobile Credit Card Reader for your Business?
Do you need a mobile credit card reader for your business? Yes. Mobile credit card processing is so important today, and here's the top reasons why:
Digital payments have a projected spend mark of roughly $726B within the next year. According to the statistics, cash is steadily being used less and less often as consumers turn to the easier, safer, and faster electronic payment methods. Limiting yourself to cash or check only payment options severely reduces your customer base.

If you have a mobile business, a portable solution like mobile credit card processing is not just your best choice; it might be your only choice. With a business on-the-go (think food trucks or in-house professions like a masseuse or private nurses), you don't have the kind of connectivity that allows you to set up shop, hardware, and software on the spot. Instead, you'll need a portable solution for accepting and processing payments; mobile merchant services is that solution

In a word, speed. Consumers today want convenience, and they want it now. For a business to succeed in our current environment you'll need to be able to process payments fast, deliver goods fast, and get the customer what they want, you guessed it, fast. Mobile merchant services allow you to process customer payments quickly and easily, so the transaction can be completed in seconds and without any hassle.
Bottom line, it's just easier. Mobile payment processing actually reduces the back-office accounting and management headaches, simplifies the entire payment process, and increases customer loyalty (because of how easy it is to clear transactions).
You can get a mobile POS system or just use a card swiper that attaches to your smartphone or tablet, turning the mobile device into a portable POS system. Of course, if you are a small business that doesn't want to open itself up to a larger consumer base by accepting credit cards, then mobile payments might not be a consideration for you.
Even if you're a brick and mortar store though, you'll want to get on this bandwagon, especially since contactless payments and more advanced credit card technologies are driving the future of commerce. Don't get left behind on a technical error.
Who are the Best Mobile Merchant Services Providers?
Works with poor or new credit businesses

Ideal for high-volume debit card purchases
Flagship is a good option if you regularly work with debit cards in your business. Plus, Flagship accepts businesses that have little or bad credit. So, it is a good solution for new companies just getting started.
Receive funds next day

Lots of freebies
Square is well-known around the business world because it gives its services away practically for free. The mobile card reader is actually free, and the fee structure is among the lowest in the market. You'll pay a flat rate of 2.75% per card swipe, 3.4% per manual entry.
Square has an offline mode so your payments will be processed even without an internet connection. Plus, you can even receive funds quickly, as fast as one day, in fact, making it a great choice for small businesses that rely on each sale to fund their continuing business.
PayAnywhere
Low pricing structure

Highly customizable
PayAnywhere is probably the cheapest option when you compare monthly plans across the industry. That's because not only is it only $12.95 a month, but PayAnywhere charges as low as 1.69% for many transactions (though you'll pay 2.69% for Pay as you go plan and 3.4% for manual entries).
What's more, you can customize your mobile app to fit your business like a glove. Use tools like barcodes, multi-pricing structures, and a built-in camera for instant item scanning.
Shopify
Integrates with Shopify stores automatically

Easy online dashboard for business management
Shopify is the preferred choice for many businesses, especially those that already have a Shopify storefront. Even if you aren't connected to the franchise already, this mobile merchant service provider is a good option because it's easy to use, offers competitive pricing, and has some seriously powerful tools on its dashboard including inventory updates, access permissions, and receipt printing.
PayPal Here
A huge suite of management features

Customize and send invoices
No surprise, the PayPal Here mobile merchant services are amazing. To begin with, there are no monthly fees, challenging Square's monopoly on that niche. Plus, PayPal Here has a ton of tools to help you manage your business, like inventory management, track payments, and employee management.
You can send customized invoices from within the software too, calculate hours, and view sales history. Basically, you're getting the power of PayPal packed into a convenient mobile solution.
Good mobile card readers will add value to your business
For example, they can:
Allow you to accept both EMV chip cards, standard magstripe, and NFC/contactless payments on the spot

Receive payment authorization directly to your device, so the transaction is instantaneously processed, authorized, and completed on a single device and through a single action on your part

Include important tools like inventory management, discount generators, and tax calculations

Issue returns or process refunds according to your policies

Have in-depth reporting and analytics for data-driven decisions
Naturally, you'll want to find a good vendor that will deliver on many of these benefits, but how are you to know which are worth the subscription fees? Here are some of the best mobile merchant services providers in 2019 that provide quality services and some great bonus features:
Is Square the Cheapest Merchant Service Provider?
Square is known for being the "free" merchant service provider. Obviously, the service isn't totally free. You have to pay 2.75 percent per swipe transaction, but you do get a lot for free. There's no annual subscription, plus you get a free reader and mobile app too.
But is Square the cheapest mobile merchant service provider?
| | | | | |
| --- | --- | --- | --- | --- |
|   | Monthly fees | Flat Rates | Benefits | Receive funding |
| | $0 | 2.75% flat rate per swipe | Free card reader and mobile app | Next day |
| Shopify | From $9 | 2.4% for both swipe and manual entries | Syncs up with Shopify online stores, easy product and inventory management | Generally, two days |
| PayAnywhere | $12.95 | From 1.69%-3.4% depending on the plan | Extra features like recurring invoices and phone item scanner for quick uploads, free reader | Next day |
| PayPal Here | $0 | 1.95% contactless payments, 2.6%, 2.9% manual | Free app and reader, built-in management tools for inventory, employee, and sales management | Instantly for contactless and chip payments, more complex payments require longer hold periods |
As you can see, Square does not always work out to be the cheapest. Make your calculations, and go with the vendor that has the lowest prices but also provides the best value for your business.
One thing that varies slightly between standard and mobile merchant services is the fees structure. As you'll notice once you start researching your options, some vendors charge you per month while others eliminate the monthly membership fee but charge a higher per swipe percentage.
The only way to know which is better for your business is to crunch some numbers. If you do a fair amount of credit card transactions per month, then a flat monthly fee might be more economical for you.
Alternatively, if you do fewer swipes but want the mobile merchant service provider for convenience, technology, flexibility, and other features that come built in, then a no monthly fee provider might prove the better option. Here's a quick look at some of the best providers mentioned above and their fee structures:
Mobile Merchant Services: Leveling the Playing Field at Last
Many businesses today are not confined to the four walls of an office, storefront, or floor space. Instead, there are ample companies that do their business on the run or electronically including e-commerce, at-home services, and tech services. Luckily, mobile merchant services make running a business from anywhere not only possible but easy. With just a smartphone and a card reader, a small business can compete with even the big-name brands. Move over boys, it's time for the little guys to shine.