6 Things to Consider When Building an Online Store
August 9, 2018
Last update at November 25, 2019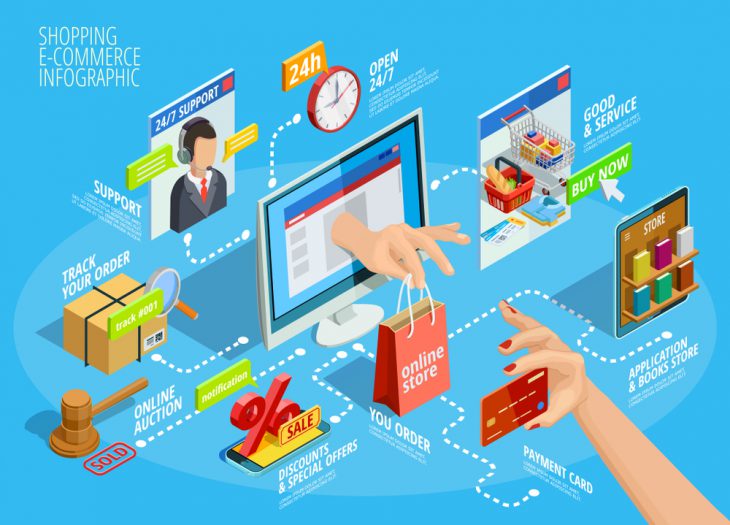 6 Things to Consider When Building an Online Store
Chances are, if you have a company, then you have a website. And when you're looking to make that website as profitable as possible, you might be thinking about adding an online store. Sound familiar? Building an online store may seem daunting at first, but with all of the tools available now, it's really just a matter of taking the time to sort out the products and your brand, letting the platform takes care of the rest. Read on to find out the key steps to launching this next exciting part of your business!
1. Choose Your Platform
Just like with building a website, choosing the right platform will make your life much easier. Take the time to do some research on what makes sense for your business in terms of cost, ease-of-use, capabilities, and visual appeal. There are lots of tools out there (Volusion is a great, user-friendly option with attentive customer service), so give be sure to do real research to make a thoughtful choice. 
Remember, a lot of whether a potential customer makes a purchase or not depends on the shopping experience, so the way in which they buy is as important as the products themselves. Many online platforms offer free trials, so don't be afraid to sign up for a few and do some testing to see what feels best for you and your potential customers.
2. Gather Your Inventory
This might seem like an obvious step, but choosing the right kind of items for your online store is an important one. What you're selling can be very simple—say, gift cards for your brand—or you can offer a more robust selection with different categories, sizes, and colors. Whatever you decide to sell, there are two rules of thumb: It should be of good quality, and it should speak to your brand.
Quality: Selling your customers great inventory is an excellent way to bring new customers in, or bolster your relationship with existing ones. However, if one of your customers orders something from you and it's faulty or not as described or pictured when they receive it, you've taken two steps back (and created more work for someone who'll have to step into a customer service role to fix it). If you wouldn't be happy with it, don't sell it.
Brand: This one is a little trickier. Let's say you own a coffee shop and you want to expand with some retail items. You may want to get some free advertising with branded tee shirts, mugs, or bumper stickers, or you could even sell bags of coffee. But what makes sense beyond that? Focus on giftable items that support or enhance your products, but don't compete with them.
3. Style Your Stuff
Getting the right products ready to sell is important, but making sure they look great on your website is another important step. If you or someone on your staff is a great photographer, utilize that resource to take high-quality photos of your items. Because there's not anyone there to help sell your items like there might be in a store, your pictures are what will communicate the best parts of your products. The photos should:
Be clear and well-lit
Show any important details, which might mean taking more than one photo of each item
Be in the same style as other photos on your website—if you have a brand aesthetic, your product photos should reflect that
Show the product in its best light, whether that means on display by itself or being used by a consumer
If you don't have the camera or the time to take great, stylized photos, it's worth hiring someone to take them! Remember, these photos are your online salesperson, so make sure your products look their best.
4. Write Your Descriptions
The supporting items descriptions for your products are often overlooked but are also very important to your buyer. Make sure each product you're selling has a brief description, along with any specs that the potential buyer may need, whether that be available colors or sizes, the materials it's made of, or where it was manufactured. Do your best to go through any questions a customer may want to know and make sure they are answered in your description. It's also important to make sure these descriptions match the tone of the rest of your website so it doesn't feel disjointed from the rest of your brand.
5. Share it!
Now comes the fun part—showing off your hard work! Share your new online retail platform with your existing fans both in real life and online. Promote your new wares on social media so your existing fans can buy in and show support for your brand, spread news of your new products by word-of-mouth, and if it's within your budget, invest in some ads on social or traditional media outlets to really get the word out. You'd be surprised how little you have to spend to increase your reach.
If you have any influencers in your area or businesses that you are friendly with, don't be afraid to give them a few samples and encourage them to share the news (and praise) as well. You've put in the work of creating this platform, so the wider the audience, the more customers you'll get!
6. Keep it Up
Maintaining your online store may not be the most fun part of the process, but it is an important one. Make sure that you are keeping good track of your sales–what people are buying when they're buying them, as well as how long they're spending on the page before deciding to make the purchase or not. Your platform should provide you with lots of great data, but it's your responsibility to study it and see the best ways to move forward with your store.
Chances are, not every item will be a successful sale, and that's okay! What's important is that you look at the numbers and make sure you're not re-investing in something that doesn't work for your customers and that you're not running out of what's in high demand. This work will make sure your customers feel confident and excited to make purchases from you, and will also ensure that you're maximizing your profits and not wasting money on items that won't sell.
An unofficial last rule of this process is to not be afraid to ask for help! Don't be afraid to use your platform's tutorials, call their customer service, or look up how-tos on YouTube. This addition to your business has the potential to bring in a significant amount of income and brand affinity, so be sure to dedicate enough time and resources to making sure it's a great extension of your company.