What to look for in your Cloud POS System?
November 5, 2017
Article by Chris Costi, Last update at December 11, 2019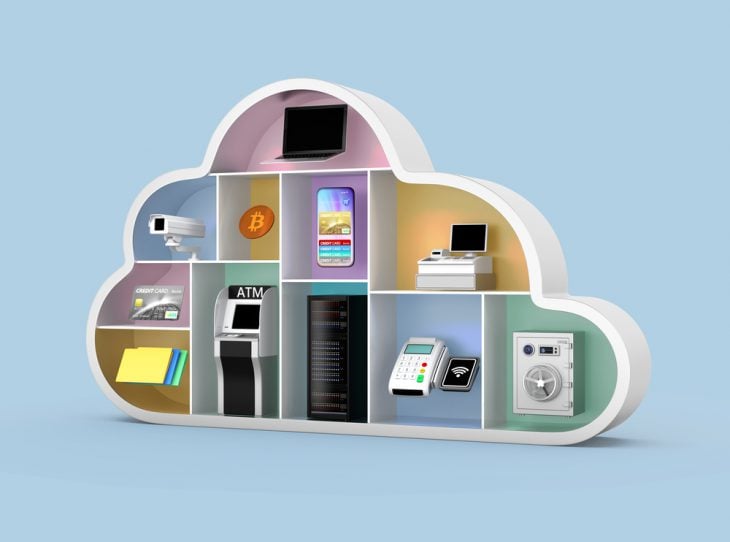 What to look for in your Cloud POS System
We all live in a digital world and the idea of having all your data securely off-site on the cloud with 24/7 access from anywhere is very appealing. Gone are the days were we used windows based traditional POS systems which were quite limited. The mobility and flexibility offered by the cloud cannot be beaten and here are some of the reasons why.
Mobility
Being able to manage your business from an iPad or iPhone at any time and from anywhere in the world is a real advantage when using the cloud-based POS system. The mobility and flexibility of the cloud-based POS system will allow your staff to take credit card payments and email receipts to customers from their mobile iPads. Having 24/7 access to all the systems reports will let you run your business efficiently and allow you to make informed decisions on all aspects in real time.
For restaurants especially, cloud-based POS systems like TouchBistro and Toast offer the best possible solutions allowing you to keep track of menus, inventory, and sales as they happen, giving you the possibility of changing data instantly. It is also very easy to engage with customers with a mobile tablet on the shop floor with instant access to any information they might require. This is an advantage for small to medium sizes retailers that cannot afford to spend thousands on hardware and want to be of service to their customers from any location in the store.
No Downtime
The non-cloud based POS systems could crash if they are affected by a virus and get corrupted, resulting in downtime while it gets fixed. This could take up a lot of valuable time and cost a fortune, while a POS technician fixes the problem. With the cloud-based POS system, you will not be vulnerable to these attacks and there is no danger of being hacked. Your information and reports are all safely stored on the cloud. All good cloud-based POS systems like Revel, ShopKeep and Lightspeed offer this secure cloud system which will give you peace of mind and no downtime or extra expenses to worry about.
Be online at all times
Even if the internet is down you can still work with your cloud-based POS system. You do not have to stop working and the system will allow you to carry on the point of sales duties until you are back online. The system will update and sync all your data as soon as the internet is back up and running, so you do not lose any data. Cloud-based POS systems require a constant internet connection but in the event that the internet is down, you will still be able to access your data and take payments until the service is back. All data saved on the cloud instantly and your whole system will be updated once you are back online. This is like having two network operators taking care of your business.
Software updates
The newer POS systems with a cloud-based system like TouchBistro, Revel, Lightspeed and Toast do not charge upfront fees for software apart from the setup fee and the training. The system is updated free of charge through the cloud which will keep you up to date with the latest upgrades. Through the cloud, these updates are done automatically. Cloud-based POS systems usually charge a low monthly fee for these services. You will never be stuck with outdated technology or have to pay for updates. The cloud-based service does it all for you.
Security
One of the most important advantages that cloud-based POS systems have is the security they offer with all business reports and activities stored in the cloud. You will not need to upgrade on storage space as the system will never require you to do this. With 24/7 security and several layers of redundancy, the cloud will protect your data and you will never have to worry about hackers, identity theft or any other problems that can occur with low security. Credit card providers will only shoulder the costs incurred by stolen cards if you are using the latest technology for security. You will never have to worry about backing up your system as this is automatically done in the cloud. Whatever happens, whether you lose a tablet due to theft or your computer crashes, your data is safe and stored in the cloud. In order to be safe and reap the benefits of the cloud-based POS systems, you should seriously consider changing over to Revel, Toast, TouchBistro, Lightspeed or any other cloud-based system of good quality.
Compatibility
Being cloud-based the POS systems can easily be integrated with other programs like accounting software, loyalty programs and other systems. The possibilities are endless and the cloud-based system makes integration with other programs easy to connect and use.
Centralization of information
Cloud-based point of sales systems offers centralization of information for chain retailers or restaurants. It is of the utmost importance to be able to analyze information from all your stores separately and as a whole. Again being able to access this information from anywhere at any time is an added bonus.
Costs
Cloud-based POS systems have a low startup cost which is most appealing to small retailers and restaurants. With a low monthly fee, you will have the benefit of using the cloud to store all your information which in the long run will save you from paying to upgrade your system. All cloud-based POS systems like TouchBistro, Revel, Toast and Lightspeed offer free upgrades through the cloud and you will never have to spend money on an in house IT technician. Cloud-based POS software can be accessed through a browser which means you do not have to spend a lot of money on purchasing expensive hardware to run your software. You also have the advantage of running the software through a computer or a tablet with the only requirement being access to the internet.
Hardware
The biggest users of cloud-based POS systems are the retail industry with their multiple points of sales terminals. Point of sales terminals now has a computer, monitor, cash drawer, barcode scanner, and printer. In addition, there is also a customer display and a credit or debit card payment terminal. In some cases, the cloud POS system for retailers will also provide a weight scale, and an integrated card processing system. Some of the best cloud-based POS systems for retailers are Revel, Lightspeed and ShopKeep. New businesses in the retail trade employ user-friendly touch screen with their computers that are built into the monitor's framework. In recent years cloud POS systems have become the norm for small and medium-sized retailers. These systems offer savings and an increase in productivity in the long run.
IT knowledge
You do not need to be a computer genius to use and run the cloud-based POS systems. Systems like TouchBistro, Revel and Lightspeed have user-friendly interfaces and with a little bit of training, you and your staff will be able to use the system easily. No downloading or installing is necessary as this is all done for you. It is as easy as plugging in the system, opening your browser and starting to work. You will also not have any extra software on your system that will slow you down as everything is stored on the cloud. Using the cloud-based point of sales system is as easy as surfing the internet.
Customization
Some cloud-based POS systems do allow you to customize the software according to your branding colors and design. Although this might not be important for small businesses who do not have the funds to customize the software, this is an important feature for retailers and restaurants that have multiple stores. Cloud-based POS systems like Lightspeed, Revel and TouchBistro are all paid on a monthly or yearly basis and you can add or decrease the number of devices you need whenever this is necessary.
Payment Processing
For all retailers and restaurateurs, a payment processing option is a necessity. Some of the cloud-based POS systems allow you to shop around for a payment processing company and others have their own payment processing facility which you are bound to use if you want their software. Whatever the choice the cloud-based POS system will have the payment processing integrated into the system and all your data and payment details will be stored safely in the cloud.
Support
ShopKeep can boast an excellent record when it comes to customer service. Help and support are important when choosing a cloud-based POS system. Most of the better-established system do offer 24/7 support online.
There is no doubt that a point of sale (POS) system is essential for all businesses that offer goods or services from a physical location. This is a worthwhile investment that will hand you control of your business, and ensure efficient management and running of your store. The convenience offered by Cloud-Based POS systems is undeniable, just the ability to access reports and see real-time sales and figures from anywhere and from any device is an amazing feature. Cloud-based systems will allow your business to grow, and you will never need to pay for upgrading the software, it grows with you. All you need to add would be mobile devices to meet the demands created by the increase in business. Good POS systems also offer great customer service and they should be available 24/7 online for any queries you may have. Some of the top POS systems like ShopKeep, Revel, TouchBistro and many others offer extensive customer support.