How to Integrate POS Options into Your Online Store
October 2, 2018
Article by Andres Ramos, Last update at December 11, 2019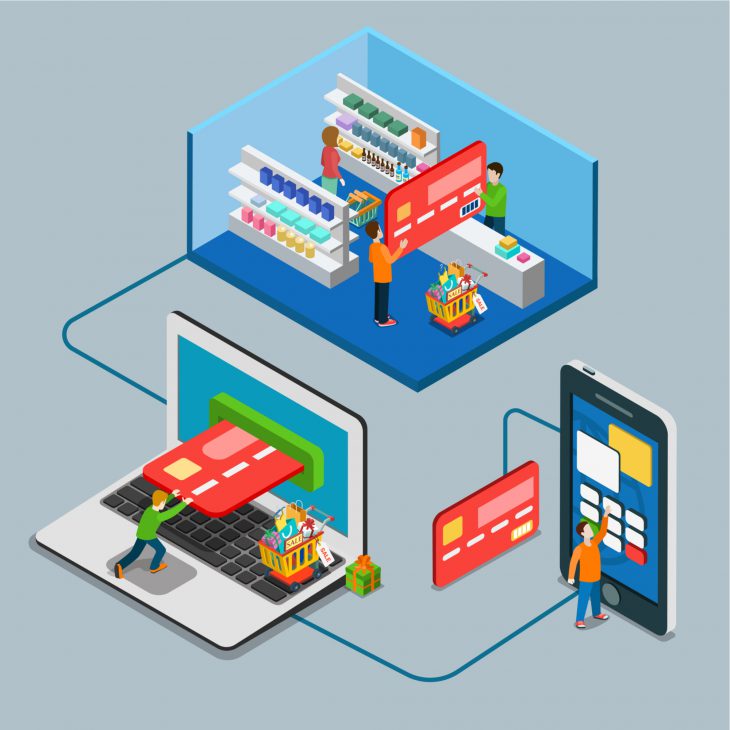 How to Integrate POS Options into Your Online Store
Imagine that you are walking through a bakery.  You pick up a packet of lemon-drizzle cookies, and decide to go pay for them.  However, as you scan for the nearest cash register, you realize the store seems to be devoid of tills. Frantically, you approach the front of the store in hopes of locating the point of sale, but only cobwebs hang in the place where cheerful cashiers once stood.  In a far worse mood than when you arrived, you leave the bakery, never to return.
The hypothetical scenario above serves as a parallel to the experience that customers will have at an online store with a poorly-integrated POS system.  While customers may love your site and adore your products, the simple fact of the matter remains that they will not jump through hoops to pay you.  If your site lacks navigable, streamlined POS functions, customers will jump ship and migrate to a site that does.
In this article, we'll review what POS options are, how they've been historically integrated into online stores, and what the available avenues are for you to accept payment through your website.
What is POS Systems, and Why do I Need Them?
POS refers to the Point of Sale, or as it's sometimes called, the Point of System. In a traditional store, it would be where the customer evaluates their final order, and then provides payment in order for the exchange of ownership to occur.  Usually, this would physically resemble a till or a cash register, and involve the services of a cashier.
In the online world, the POS performs the same function but looks a little different: After selecting all of the items that he or she wants, the customer will be brought to a "check-out" that allows them to review their order.  If they are satisfied with what they've selected, they'll then be able to trigger a purchasing option.  This option then allows their credit card to be processed for payment using a software as a service-based attachment that sends their information to a cloud-based processor.
What this looks like, from a visual standpoint, is a portion of the webpage in which clients enter their credit card details, and then receive confirmation of their order upon approval.
POS systems, however, can do much more than simply accept payment, and this is why they're also referred to as Point of Systems.  Many POS systems also keep track of inventory, trigger automated replenishment of products, and render analytics from which salient business insights can be derived.
Whether or not you need a POS System for your online store is not in question.  Without one, your customers will have no way to securely exchange funds for the items that they need, and they'll immediately move on to one of your competitors.  However, what is in question is how to best integrate these options into your online store.
However, in order to determine which POS Software your store will use, you'll have to decide how you want to accept and process payment.
The most common way of accepting payment involves using the following elements either separately or in concert:
Merchant Accounts
These type of accounts are essentially specialized bank accounts established to accept and collect credit/debit payments rendered upon your company.  Typically, the funds will be kept in the internet merchant account for a predetermined amount of time prior to being delivered to an account designated by you or your company.  Usually, these type of services come with an attached fee that is specified at the time that the account is opened.
With an internet merchant account, your company will have the capacity to process payments made via credit card directly.  This type of account can be procured through most banks, but you must apply for it in a similar way as one would a loan.  While not always, one of the most common fee structures is for the bank to get its portion by taking a fixed percentage of each transaction.
One drawback to an internet merchant account is that the expenses attached to it can be fairly significant due to the staggering costs of investigating the legitimacy of the company for the account provider.  Sadly, due to the fraud-fraught paradigm in which online merchants operate, it's a burdensome-but-necessary operational imperative for account providers to make certain that they're not inadvertently enabling criminal elements.
One way of diminishing your costs and increasing your likelihood of approval is to solicit a merchant account from the bank on which your company relies upon for its financial services.  Some of the questions your financial institution may ask when determining whether or not to approve you for a merchant account may include the following:
Your present or projected turnover rates
The value of the average transaction
Details about your business accounts
Volume/frequency of sales
The nature of your business and what it offers
How long of a time span there is between the acquisition of payment and delivery of goods/services
How the delivery of product occurs
References from present or previous suppliers
If your bank does decline your application for an internet merchant account, however, it's hardly the end of the road for your efforts!  Instead, you should continue applying at other local banks, and, chances are one of their competitors will approve your company!
Once you've been approved, however, your online store will be off to races, fully capable of accepting customer credit cards and providing easy access to your inventory.  Online marker and art supply retailer, Scentos offers its clients the ability to quickly purchase their items using either Visa, MasterCard, Discover, or American Express.  This broad spectrum of payment alternatives makes it so that most customers with a credit or debit card will fall within the cast net of Scentos' payment choices, removing one of the major obstacles for customer convention.
Payment Gateway
A second option for accepting client payments is to go through a payment gateway.  Payment gateways are software through which e-commerce sites connect with their financial institution.  While some gateways, such as Authorize.net, require that you have an active merchant account, others such as PayPal and Google Checkout do not make a merchant account a prerequisite.
Some of the functions of payment gateways include:
Determining the validity of a card
Finding a card's issuing bank
Encrypting card details
Initiating bank transfers
Relaying transactional information to your e-store
Many sites, such as Ballet Barre's online store, use the power of merchant accounts and payment gateway in combination to provide customers with the broadest set of alternatives for rendering payment.
E-commerce sites, such as offer PayPal-based payment options that neither requires that customers have access to credit cards nor that Rustysurfboards.com hold an internet merchant account (though, in this case, they do).  The use of accounts that can be funded using sources other than credit lines helps Rustysurfboards.com tap into markets in Russia, Germany, and several smaller nations where credit cards are not a common way of paying.
What are some of the Most Popular Payment Gateways and POS Systems for E-commerce Sites?
Though this is a question worthy of an entire article or five, here is a brief overview of some of the most popular companies in the Pantheon of POS and Payment Gateway Services.
Payment Gateways
PayPal – It's quick and easy to sign up for PayPal, and they do not require smaller stores to have a merchant account.  Additionally, it's a surefire alternative for including clients who do not have a debit or credit card. The main issue is that PayPal has one of the highest rates in the market today.
Authorize.net – Unlike PayPal, Authorize.net does require that their clients have a merchant account.  Fortunately, those without an account can count on Authorize.net to help them secure one.  Authorize.net's rates are competitive – As they have no set up fees. They do subtract a 2.49% transaction fee per purchase, as well as a nominal, flat rate incurred regardless of the purchase cost.
Square – Since its launch in 2009, Square has been a mainstay in the world in of payment processing.  A dense repertoire of features and a lack of monthly fees have made it the clear choice for merchants interested in reducing their overhead costs as they focus on growing their businesses.  Generally, online transactions cost a flat rate of 2.9% plus $0.30, making their pricing schedules some of the most attractive in the industry.
It's not just their prices, however, that make them worth a look over.  Square's options for online merchants include e-commerce integration, virtual terminals, the ability to store card information, recurrent billing and invoice-generation, online orders, high-powered analytics, API's for developers, and more!  Their complete set of e-commerce solutions makes them a one-stop-shop for online shopkeepers.
Stripe – Stripe is a payment acceptance solution aspires to replace merchant accounts and payment gateways.  Instead, their webpage promises a consolidated, one-stop-shop style service that lets customers interact with them exclusively, doing away with the need for payment gateways and merchant accounts.
POS Systems That Works Great With eCommerce
Touchbistro – One of the most highly-rated POS providers, this cloud-based software brings the benefits of a complete POS system directly to your iPad.  Whether you want to manage or update inventory, adjust payroll information, email electronic receipts, or take advantage of their extensive array of analytic tools – Shopkeep provides the fine-tuned, prevision-oriented control you'd expect from a top-tier POS system!  Other valuable Shopkeep features include:
Transaction and Payment Processing
Staff and shift Management
Marketing and Customer Outreach
Integration of Third-Party Software
LightSpeed – Another leader of the POS pack, Lightspeed's e-commerce extension offers all of the functionalities online store owners need to provide their customers with top-notch service.  With a client count of more than 50,000 businesses across nearly 150 nations, it's clear that they must be doing something right!  Some of the things that keep their customers renewing their contracts are their omnichannel capabilities, discount functions, 24/7 support, robust reporting tools, and user-friendly dashboards.
The world truly becomes your company's oyster with a wide variety of currencies Lightspeed accepts.  And connecting with foreign customers has never been easier thanks to their language-toggling options!
Though they offer different pricing tiers for those that want to take advantage of a greater breadth of choices, Lightspeed's base price starts at a customer-friendly $59/a month.
On a final note, Lightspeed reports an uptime rate of 99.94% – meaning your business won't be inconvenienced by unnecessary crashes.
Clover – This POS line is a tried-and-true favorite of many e-commerce platforms.  Their innovative combination of mobile and desktop solutions has helped thousands of companies replace traditional tills with a more streamlined, single-solution alternative.  Businesses can use Clover to both PIN and chip cards, as well as emerging payment methods like Apple Pay.  Moreover, their software integrates easily with QuickBooks, and allows for order management, punch-ins and clock-outs, and more!
The Bottom Line
Integrating a POS system into your online store has never been easier.  With the expansive ecosystem of payment gateways and POS programs available, we're certain you'll be to find one that provides your customers with the convenient shopping experience they crave and allows you to make your mark on new markets.