Compare the best café POS systems [2020]
February 18, 2019
Article by Chris Costi, Last update at November 29, 2020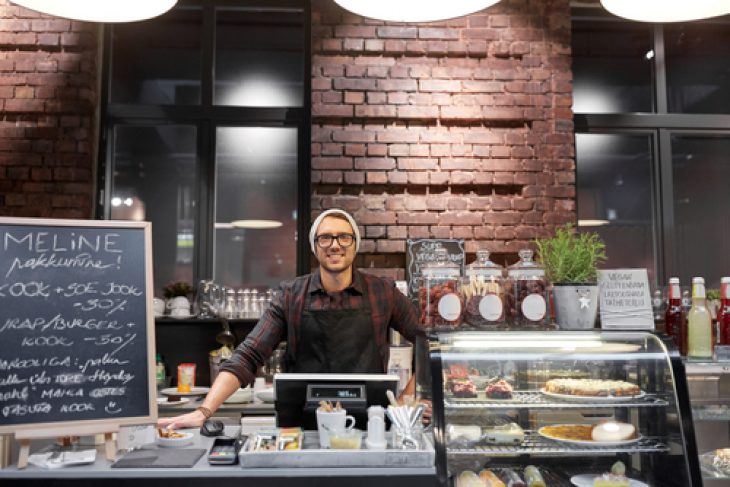 Point of sale systems that are designed for the food industry is suitable for small or large multi-store coffee shops. All eateries regardless of their size or type need to be able to efficiently manage their stores and a good POS system makes a huge difference when it comes to seated or takeout and delivery services. There are many point of sale systems that are suitable, which one you choose depends on the features offered, the hardware needed, the payment processing integration and of course the price.
Why you Need a Cafe POS
Using a point of sale system will offer you the ability to run multiple cash registers or accept payments on tablets and smartphones tableside or on the go. All café establishments must be able to accept all type of card, check and cash payments through a reliable payment processor and it is wise to see if the POS system you choose integrates with the payment platform of your choice. If you need to keep track of your employees with built-in payroll features you will need to find a POS system that offers full employee management.
For more in-depth features like running open tickets and splitting checks, menu management, inventory control, in-depth analytics and reporting, delivery and take out management, you will need a point of sale system with advanced features. Built-in loyalty programs for your customers is another extra that you may wish to consider as the data collected from your patrons could be used for promotions and loyalty cards.
Cafe Point of Sale
The best POS systems for cafés are cloud-based which offer mobility and freedom to move around the store. Point of sale systems for cafés that offer full features are TouchBistro, Upserve, Toast, and Shopeep to mention a few. All the aforementioned POS systems come highly rated and are an excellent choice if you are looking for all the features necessary for a good system to help you run your café efficiently.                                                
i

Pad POS for Cafes
ShopKeep can be used as a café Point of Sale system that is suitable for smaller businesses. They offer one of the best inventory tracking features, sales and ticket management and employee tracking tools. With an easy to use interface which is iPad based, ShopKeep also allows you to choose your own payment processor. Starting at $69 per month to register each mobile device, ShopKeep is also an excellent mobile point of sale system.
The Best POS for Small Cafes
If mobility is important, small cafés and startups can use the free Square POS system which can be run on a tablet or smartphone. With Square, you add on devices when it is necessary and keep your costs down until you need to upscale.  For small cafés and startup you might look at a POS system like Square which offers a basic free point of sale system. Once the business picks up you can upgrade to the Square for Restaurants for $69 per month.
The Best POS for Larger Cafes
For larger businesses with multiple locations the following POS systems are highly recommended:
Upserve
Upserve offers a feature-packed system that allows you to manage all aspects of your business. If you need to manage multi-location with a centralized system, Upserve has the capability of efficiently managing several stores in different locations. Manage sales, employees, inventory, orders and much more through Upserve software. With countless integrations, Upserve offers everything you would need to manage your business.
Prices start from $69 per month and you can run 5 or more mobile devices and registers. Access to back end management can be done through any computer, tablet or smartphone, from any location. With Upserve you can create and categorize menu items and customize orders. Orders are sent directly to a printer or display in the kitchen for efficiency and you will also have the ability to set up online ordering and phone orders.
Upserve POS
 TouchBistro
TouchBistro is a highly rated restaurant management point of sale solution. They offer a wireless kitchen display system which is ideal for larger establishments who need to run an efficient kitchen.  Larger cafés that need to organize tables and adjust floor plans or want to have a kiosk facility for customers to order for themselves cannot go wrong with TouchBistro.
Prices start from $69 per month paid annually for one license and can reach up to $399 for unlimited licenses. TouchBistro is an international company and they provide a full restaurant managing package for all types of restaurants, including cafés. TouchBistro is specifically designed for Apple users and is completely mobile.
 Toast
Toast is well known in the restaurant trade as an excellent point of sale system that is specifically designed for the food industry. They work on Android devices and you can purchase a preloaded device directly from their website for a onetime fee of $450.With Toast, you get a fully functional restaurant point of sale system with all the features you will need to run your café successfully. You will be able to accept all major credit cards through the Toast Payment feature which will also allow you to keep track of your sales with in-depth analytics.
Prices start from $79 per month for one terminal and an additional $50 per terminal added. Their inventory management feature will track levels and ingredients as used to give you a clear picture of what is in stock. Orders can be sent directly to the kitchen through a display or a printer and you can also process phone in and online orders. With a built in gift card and customer management, Toast offers all the features you would need to run your business efficiently from all angles.
Most cafés will need to be able to run their stores with a countertop register or be able to take orders tableside with mobile devices. Another feature that is important is inventory management to keep track of ingredients and a menu management function to enable instant changes when necessary. Management of orders with the kitchen should be automated with a kitchen display or a printer for maximum efficiency.
How you get paid is obviously very important and the need to select a point of sale system with an integrated payment processor of your choice is one of the most important decisions you will make. Prices and rates may differ and you need to choose the best payment platform to suit your needs. Employee management and marketing and loyalty programs also need to be taken into account. Because of the diverse features offered it is a good idea to take advantage of the free trial offers, that some of the POS systems offer, to find the best fit for your business.