Compare The Best POS system For Events [2022]
June 6, 2022
Article by Andres Ramos, Last update at June 15, 2022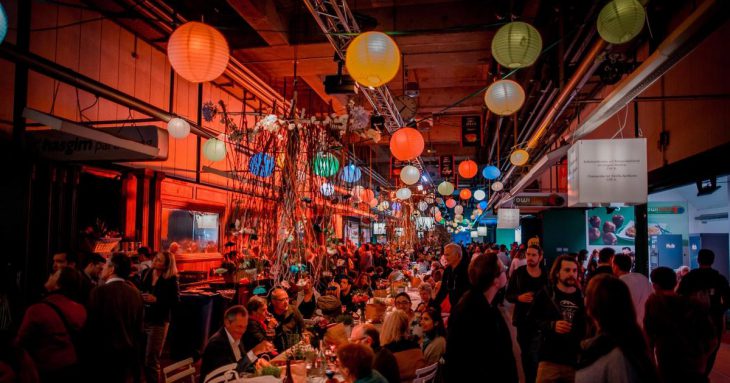 Large public events such as trade shows, festivals, or conventions are a great opportunity to familiarize the world with your company and the services it offers.  These massive gatherings often take place in a convention center or stadium giving businesses maximum exposure and the chance to win potential new clients. They're a great opportunity to engage with customers who display an interest in your business and ultimately sell your products. Sometimes this can be harder than it seems if you don't have an event POS to facilitate sales.
If your company cannot capitalize on the potential for the promotion that a public event provides, it's a problem. Your company must be able to render the same efficient, high-quality service from its cart, kiosk, or concession that clients would expect from a brick-and-mortar location. To make this happen, you need to have a well-honed, customer-friendly event point of sale system that keeps transactions flowing smoothly off-site.
Why is Events Point of Sale Different?
Put simply, an event is a huge concentration of customers gathered in one place. Unlike a typical retail outlet environment, this can result in a high volume of transactions taking place and you need to be able to handle these. At an event, it's not uncommon to have from five to fifty POS systems in use to ensure you meet your goals. Luckily the providers mentioned below also handle event POS rentals which means that you can scale up for a big event without incurring high costs.
Without a high-grade event POS system, it's easier for your vendor stand to lose track of important fluctuations in inventory, have a harder time accepting payments, and pass up on the opportunity to harvest valuable analytics data from a purchase made at the event.  More importantly, a failing payment portal can make the buying experience frustrating on the customer's end, and leave them with a difficult-to-erase perception of your company that's less-than-ideal.
Read on to discover which POS systems provide the most features and functionalities for vendors at public events.
The Benefits of an Event POS
While some POS systems work well within the context of an established brick-and-mortar operation, they may lack the cloud-based, mobile-friendly functionalities that are so necessary for the hectic hustle-and-bustle of a trade show or convention environment.  
Simply stated, for a vendor stands at a convention, a conventional POS won't do.  Event environments require robust, innovative set-ups that feature the following qualities:
Capacity to accept a wide variety of payment processors

Cloud-based inventory management tools

Ability to accept multiple currencies

Card processing ports that plug into a phone or tablet's headphone jack

Options for creating, managing, and promoting loyalty programs

Rental of POS units available
These functions will enable your vendor to stand to run fluidly and without unnecessary interruptions – allowing your business to shine before the influx of new customers.  Most importantly, as more and more companies incorporate top-tier POS systems into their blueprint for enhancing the customer experiences, competitors that fail to keep pace will be left by the wayside.
The 3 Best Event POS Systems
Shopkeep – Shopkeep is a leading POS that offers easy and intuitive UI, as well as a 14-day, no-cost trial period.  
Their $59 a month rate is well within the realm of affordability, and with zero-contract, pay-as-you-go subscriptions, your company can enjoy unrivaled flexibility with no strings attached.  Moreover, the ease with which Shopkeep customers can jump ship serves as a testament to the quality of their services, as few opt to leave despite it being quite simple to do so.
Perhaps what keeps them coming to Shopkeep is an attractive line of features such as 24 hours, 365-days-a-year tech support, the ability to store credit cards offline for future processing, or a generous, 10,000-item limit for inventories.  
Other silver linings in this cloud-based system include their email-based receipt system – that both help capture customer contacts while reducing paper waste – as well as its useful remote monitoring tool that allows owners to track productivity-hampering levels from their mobile devices.
Square – 2009 was the year that everything changed in the world of POS systems:  Square made its debut, offering merchants the ability to accept credit cards using a headphone jack-mounted payment port for a flat 2.75% fee, and since then, competitors have been scrambling to out-innovate this revolutionary business solutions provider.
Over the years, their inventory of features has expanded considerably with the inclusion of e-commerce options and virtual credit card terminals, elevating the service from a simple POS to a bonafide virtual business ecosystem.
The biggest advantage Square confers upon kiosk-based merchants is the simplicity with which they can accept payment.  Using nothing more than a smartphone and an app, business owners can accept credit card payments, manage inventory, monitor employee productivity, and even manage multiple kiosks – all from the palm of their hands.
Unlike conventional POS providers, Square doesn't charge merchants expensive rental fees for card processing terminals, and its retail arm charges a mere $60 per location, with additional registers available for $40 each.
Without a doubt, however, what makes Square so perfect for those working the events circuit is its ability to centralize business management regardless of where members of the management team may find themselves.  Everything from payroll management to employee clock-ins and even scheduling can be done from the app-mounted dashboard. And since Square allows for omni-channel, multi-store control, managers can still keep stores back home running smoothly – even from the midst of a chaotic trade show thousands of miles away.
Clover – For store owners operating out of a kiosk stand, Clover's streamlined integration of multiple tools and functionalities into one centralized hub is the perfect way to simplify their roles.  Kiosk operators can take advantage of Clover's variety of payment processing options which include ports for PIN and chip cards, as well as Apple Pay.
Additionally, merchants can take advantage of popular industry software – such as QuickBooks – that integrate easily within Clover's POS ecosystem as they manage everything from purchases to order management and more from the helm of this intuitive, single-solution alternative!
Do you run a food truck? Check out our best food truck POS guide
Which Should You Choose?
Ultimately, your decision should be based on how frequently your company participates in large, public events, and the size of its sales volume.  Larger companies might benefit from the customized contracts for which Clover is known, whereas fledgling start-ups will appreciate the simplicity and mobility of Square's "Plug-and-Play" user interface.
Why not try Square or Shopkeep's contract-free offerings?  If they don't serve your company's needs, you can easily migrate platforms with little to no difficulty.  While every company has different needs, there's no doubt that these POS systems going neck-and-neck for your business will offer the tools your business needs to stay ahead of the competition!