Compare the best pharmacy POS systems
December 14, 2020
Article by Chris Costi, Last update at June 15, 2022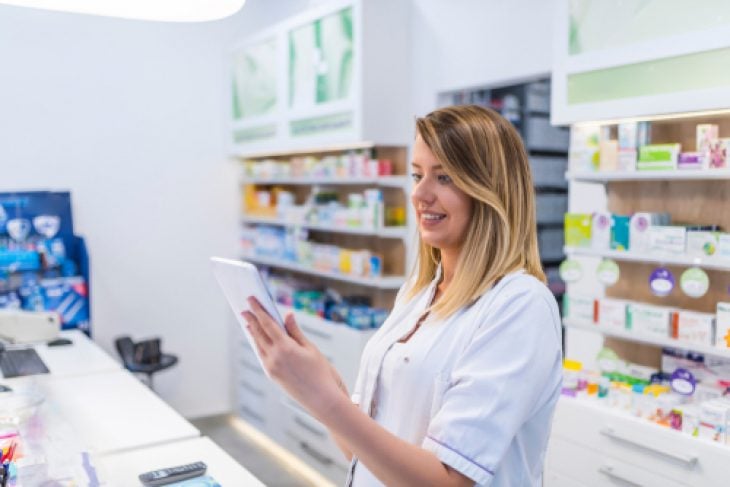 Pharmacies have unique needs when it comes to selling medications, especially prescription and scheduled drugs. Pharmacies need to be able to keep track of their inventory at all times and this is one of the most important features that need to be taken into account when choosing a POS system. Although there are a few POS systems that are designed specifically for pharmacies like HBS Health Business Systems, Datascan (Winpharm) and Liberty software, pharmacies can also use point of sale systems that are suitable for any retail store.
Why do you need a Pharmacy POS?
Most pharmacies also sell a variety of other products other than medication. Apart from the off the shelf medications that do not need a prescription, many pharmacies also sell cosmetics, first aid items and much more. If you do not particularly want to find a point of sale system that is designed specifically for pharmacies you could consider some of which is a comprehensive point of sale systems for all retail stores.
Top Features needed for a Pharmacy POS
A modern pharmacy needs a reliable point of sale system that can integrate with a drug management system, keep track of inventory and accept payments through a chosen payment processor. A delivery system also needs to be in place which would require mobile payment processing which most payment platforms offer.
The ability to send purchase orders electronically is important as medications might be urgently required for customers. For multi-store franchises, the point of sale system must be able to connect all the stores and offer reports and transactions reports through a cloud-based point of sale system. Because of the medications sold, pharmacies need to be able to set up a password-protected system for their employees so that they cannot dispense medications without the owner's permission.
Customer management is a particularly important feature for pharmacists as they need to be able to keep track of their customer's prescriptions and the number of drugs that are dispensed. Customer loyalty is strong for persons with chronic ailments that require chronic medication as most people prefer to go to a pharmacist that knows their history.
 Pharmacy Point of Sale and Inventory Systems 
A good inventory system needs to be in place and all items in the store need to be barcoded and scanned into the system. Keeping track of prescription medication in detail is of the utmost importance for pharmacists and they could be heavily fined for dispensing medication without this control. Categorizing of items is important as purchases for retail goods needs to be separated from medications. Rules and regulations, of every countries legislation regarding drug control, need to be taken into account and items need to be coded accordingly.
The checkout process must be programmed to note a prescription number and the price on the barcode when scanned. In some cases, there might also be accounts receivable for customers that have an account. The point of sale system must be synced with a good accounting package to keep track of all accounts.
A lot of people take chronic medication and these medications are notorious for price fluctuation. Your inventory management should have a feature that will inform you when items in your inventory are low in stock and also when prices change on reorders. Another important factor that needs to be taken into consideration is expiry dates, especially on medications. There should also be a feature that will let you know when medications have expired. Prices on medications are also dependent on various insurance schemes and in some cases, customers might request that payment for medication be requested directly from the insurance company.
Choosing a Payment Processor
Like all retail stores, every business needs a good payment processor. Pharmacies should be able to accept all types of payments including credit and debit cards, EMV chip card, Apple Pay, Google Wallet, and area-specific Health Saving Cards. Which payment processor to use will depend on your location, the transaction amount and how much you are prepared to pay for each transaction? It is best to look around to find the most suitable payment platform for your business.
ShopKeep has an easy to use intuitive interface and offers a cloud-based point of sale package suitable for all retailers. With pay as you go pricing that starts at $69 per month and packages offered that are tailor-made for all types of businesses, ShopKeep offers a great inventory management feature with in-depth reporting and analytics. You can purchase quality hardware at reasonable prices and as ShopKeep has its own PSP, you will be able to process payments through their payment platform.
Lightspeed offers an integrated POS system that is cloud-based and particularly suitable for retail stores. Their inventory system is ideal for monitoring and keeping a close eye on your stock. With in-depth reports, you will be able to keep track of sales by category and type of payment. Syncing of inventory from multiple stores is also possible and you can keep track from an iPad or smartphone from any location at any time. If you require extra hardware like scanners, cash drawers, and printers, you can purchase these from their website at reasonable prices. Lightspeed prices start at $99 per month for one register and 5 employees.
Shopify is available to millions of subscribers worldwide and is best known for its POS system which services all types and sizes of retail stores, online or in store. It is especially geared for e-Commerce and would suit the pharmacist that also has an online presence. Prices start from $29 per month and they have their own payment platform which charges around 2.9% + 30 cents per transaction. Shopify has a dashboard that will keep you informed on aspects of your business with in-depth reporting.
Revel is one of the best known POS systems for retailers, big and small. All their operations are controlled from a single dashboard which offers all the information you would need at a glance. From inventory management to loyalty programs for your customers, Revel has it all. For your accounting needs, Revel integrates with accounting packages like QuickBooks so that you have all your accounts in one place. Revel offers a fully compatible retail store management system. Their hybrid system allows you to keep on working even when you are offline. Revel does not advertise their pricing system online and you would need to request a quote from one of their sales staff.
Pharmacies need to be forward thinking in order to survive in this very competitive market. In most cases, medication pricing is controlled, and the profit margin of a pharmacist is low. That is why most pharmacies sell related and other products together with the medication. In other words, retail items are added to increase the bottom line and promotions are used to encourage customer loyalty.