Gusto: A Payroll Software Turned 'People Platform'?
December 15, 2020
Last update at January 15, 2023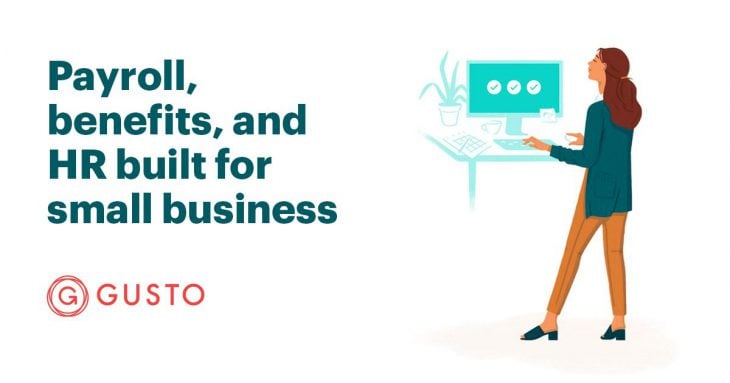 Gusto Payroll Service launched in 2012 as a standard payroll service. As they've grown and expanded their services through their own systems, as well as through program partnerships, they've become much more. They're now one of the leading payroll software services in the US, processing billions of dollars of payroll each year, and providing a full-service system for you and your employees. Gusto Payroll reviews consistently show overwhelming customer satisfaction, with PC Magazine rating them as the top payroll software in 2018. They currently have over 60,000 subscribing companies throughout the country.
What makes them so popular?
Some of the reasons that Gusto Payroll reviews are so highly praised include how well it integrates and syncs with various accounting software, making it simple to start using their services! It's easy to track employee time entries, vacation requests, and sick time; these can all be linked to popular calendar apps, such as Outlook, Google, and iCal. Their software also integrates with other time tracking apps for more complicated or difficult schedules. Gusto software is also fully able to calculate employee wages (including overtime or worker's comp payments) and can make appropriate deductions for federal tax or state tax in all 50 states.
Over their years of operation, they've also expanded to offer 401K plans all over the country where employers pay a flat fee for the program and employees pay the fund expenses. Through their partnership with Guidelines, they can also offer your company commuter benefits, dependent care benefits, and disability insurance. In addition, employees will also have their own free access to their accounts so they can manage available benefits themselves, which frees up your management and HR teams' time. All of these benefits are available and easily accessible to customers, which is why Gusto Payroll reviews are rocking the charts.
Now, why would a payroll software be referred to as a "People Platform"?
As mentioned before, Gusto doesn't only offer their services to a client, but also to this client's employees. Pleased employees heavily influence employers by submitting positive Gusto Payroll reviews. Setting Gusto apart from other payroll software is its service directly to employees through innovative technologies. The Gusto Wallet app is available and free for all employees and has no additional cost to an employer. Through this app, employees can access Gusto Cashout service, and they can get an advance on their pay prior to payday with no fees and no interest, and the amount is automatically repaid at payday with no effect on your accounting books.
Gusto Cashout is incredibly useful to employees for a lot of reasons. Rent (or utilities or phone bills) might come out on the first of the month, and payday might fall on the third. Medical emergencies can happen at any time, and access to a bit of emergency money can be a literal lifesaver. According to a 2019 survey of customers, 89% of employees reported less financial stress and 85% prevented them from paying a bill late. Employers also left pleased Gusto Payroll reviews in this survey because they appreciate that their employees are happier and more successful at work, more focused, and less stressed. This is what makes Gusto a truly full-service payroll management software and a "People Platform." Their benefits reach directly to the employees, not just to the employer, and they simplify the entire process along the way. To learn more visit Comparisun.